A unique idea makes the latest trend. Weddings By Neeraj Kamra, with its constant unique ideas and creative mind, it is recognized as the best destination Wedding planner in Udaipur. Indian wedding ceremony decorations have now evolved multi-level folds over the last few years. Amazingly, Indian wedding ceremony decorations have exceeded the standards confined to hanging drapes and uncomplicated blossom structures.
One particular definite component of wedding decor is always to produce a marriage stage that sticks apart amongst the decor. Our intimate wedding planners in Udaipur have arranged some surreal and enormous princely wedding decoration ideas. Let us take a look!
Swing Along: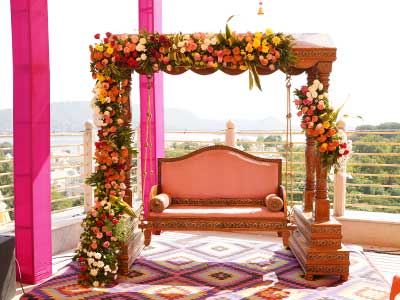 Ditch these standard seats and cushions. As an alternative, hold a swing, add blossom garlands next to, and cover the whole chair together with glistening drapes, cushions, and backdrop.
Revolving Counters: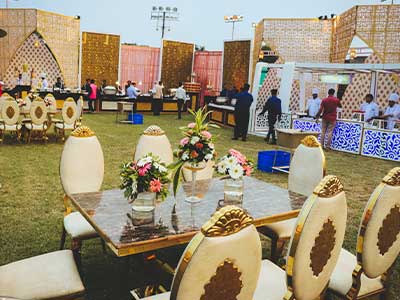 It is a mesmerizing experience for guests to get served at revolving counters with stay stations to watch their food becoming ready in a fun way. Snacks like momos, kebabs, chaap, and tandoor barbeque will grab eyeballs at the wedding. Additionally, add complimentary cocktails and milkshakes to welcome guests.
Shahi Bhojan Arrangement: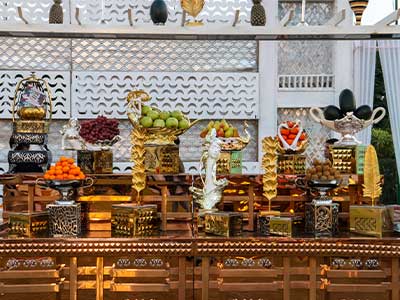 Nothing is more classier than simply giving your guests a royal feel in your wedding by arranging shahi bhojan. A thali widespread with all these meals is a cure to a lot of eyes. For those guests who are arriving from abroad to be part of your wedding, this particular shahi bhojan arrangement will undoubtedly be a warm welcome for everyone. To get matters far more desirable, request the vendors/caterers to groom with shahi apparel.
Bar Counter: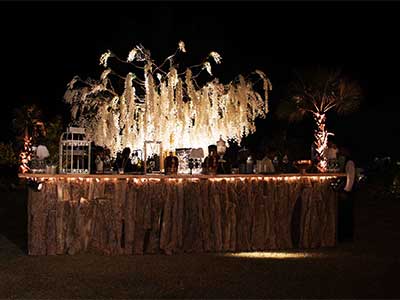 What can be a unique idea to serve chilled beer and wine with an enjoyable and thrilling method? A pub exhibit with trolleys at every corner of this place won't just ensure it is effortless for your guests to grab a drink, but it will add more fun to it. "Beer on-wheels" is exactly an idea to catch everyone's eye in a marriage!
Raining Roses:
Who doesn't adore the idea of decorating mandap with roses? Raining roses doesn't mean rain of the roses. It's like hanging roses all over, so it looks like raining roses. Weddings By Neeraj Kamra has tried this idea in many different styles to make the mandap looks adorable. Some uniqueness with the flowers, add some marigold for auspiciousness or choose numerous roses, and dangle them as a bunch of roses.
The marriage stage decoration might be kept minimal or carried out, remembering the wedding's overall theme. Contact all our creative team of wedding planners and make your special evening an unforgettable day of your life @ +91-9116660016, info@weddingsbyneerajkamra.com
Click below for more:
Umaid Bhawan palace wedding cost | Oberoi udaivilas wedding cost | chomu palace wedding cost | Rambagh palace wedding cost | Samode palace wedding cost | Alila diwa goa wedding cost | taj Aravali Udaipur wedding cost | aurika Udaipur wedding cost | wedding planner in Udaipur | Ananta Udaipur wedding cost | Jai mahal palace Jaipur wedding cost | Lalit goa wedding cost | Leela goa wedding cost | Zuri white sands wedding cost | Le Meridien Jaipur wedding cost | goa destination wedding cost | jag mandir Udaipur wedding cost | Leela Udaipur wedding cost | ramada Udaipur wedding cost | destination wedding planner in Udaipur | royal wedding planner in Udaipur | destination wedding in Udaipur | Chunda Palace Wedding Cost | Wedding Planner in Jaipur | Wedding Venues in Udaipur | Wedding Venues in Goa | Wedding Venues in Jaipur | Udaipur Destination wedding cost