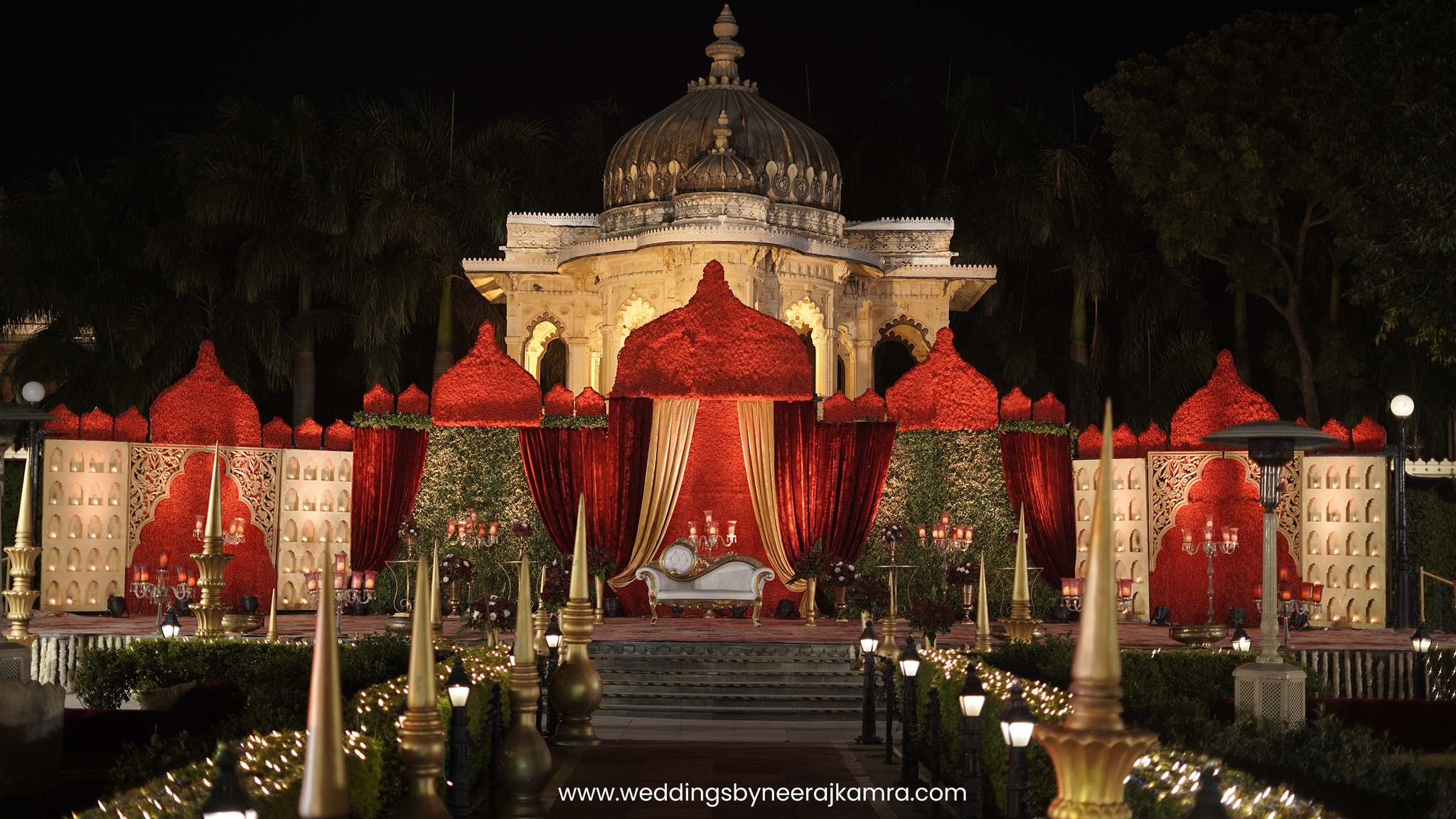 The Traditional Decor for Grand Weddings
Experience the charm of Grand Indian Weddings with classic decor. A big stage steals the spotlight, decked out in beautiful details. Behind it stands a palace, adding a touch of royalty. Fancy lamps and rich red curtains bring a cozy yet vibrant feel. Together, they create a setting that's perfect for celebrating in the grand style of Indian traditions, making weddings truly special and culturally rich.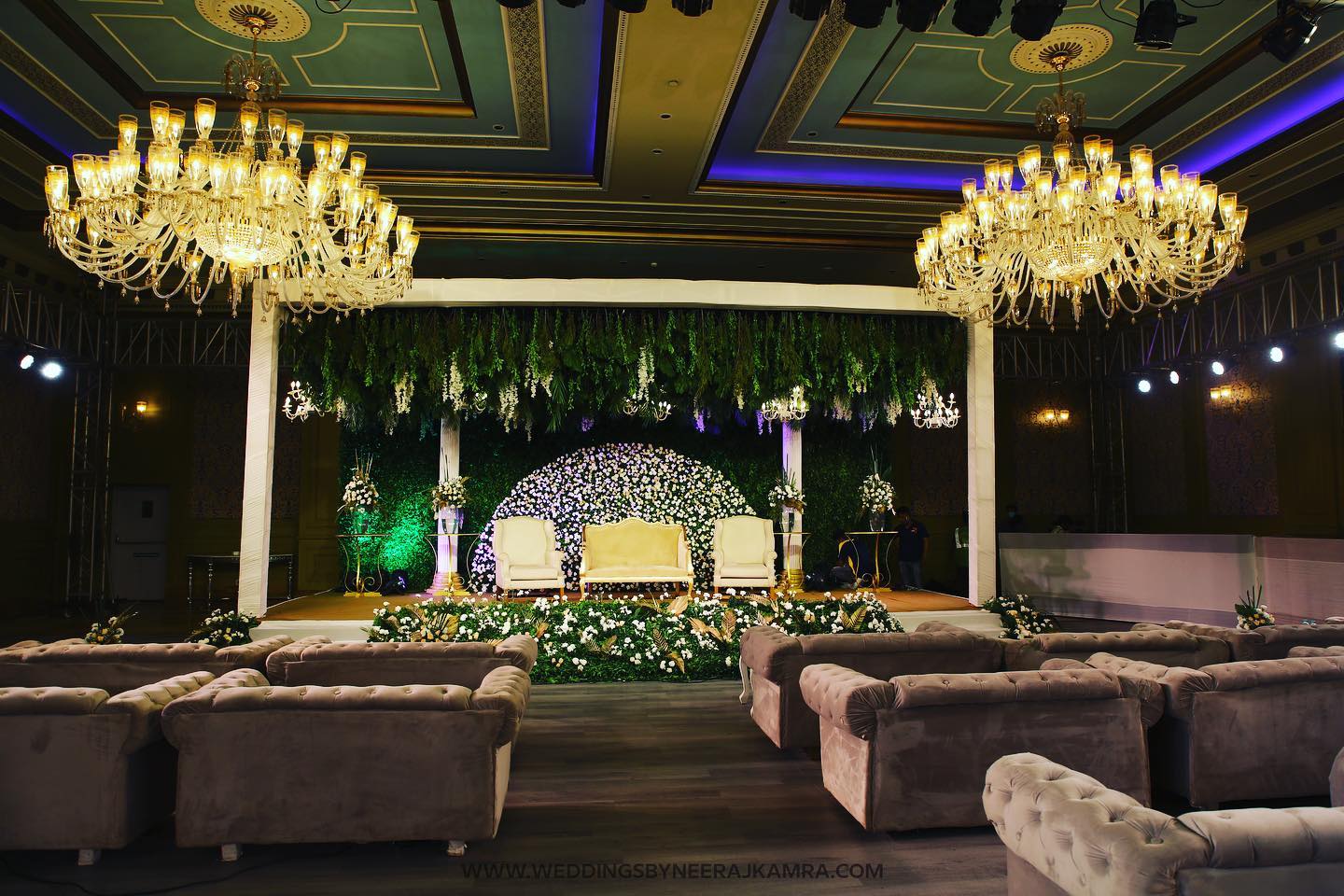 Classic Indian-Themed Wedding Stage Decor
Elevate your wedding with the timeless allure of Classic Indian-Themed Stage Decor. Adorned with two grand jhumar chandeliers, the stage boasts a canopy of lush green leaves and flowers. Unique flower pots on stands add a touch of elegance, while behind the chairs, a large circular arrangement of flowers enhances the aesthetic. This picturesque setting blends cultural richness with floral finesse, creating a stage that resonates with the charm of a traditional Indian celebration.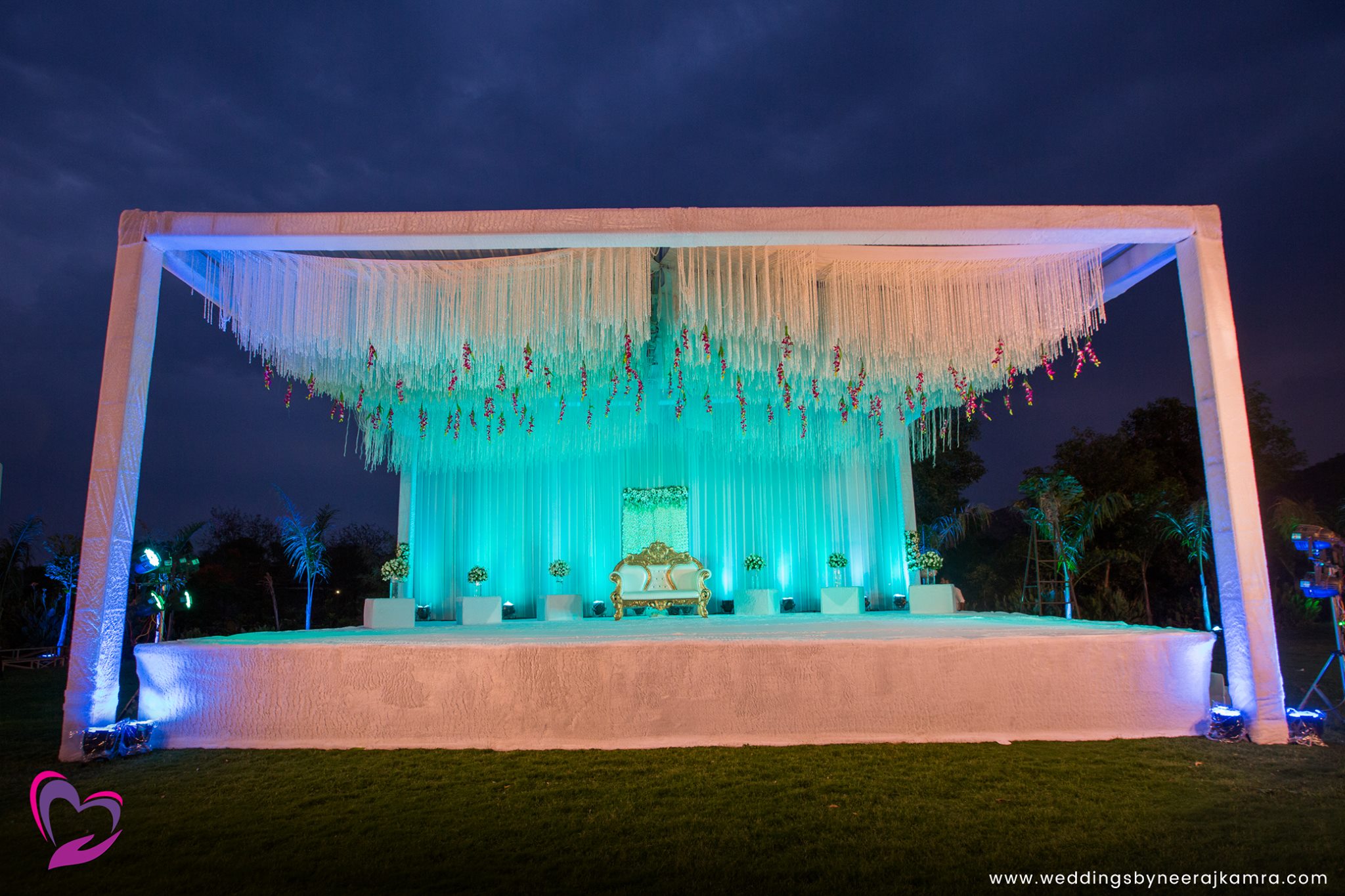 Simple yet Graceful Wedding Stage Decoration
Immerse your wedding in simplicity and grace with a White-themed Stage Decoration. The entire stage is bathed in a calming white hue, creating a soothing ambiance. From above, delicate white drapes hang, adorned with touches of red flowers, adding a subtle pop of color. This minimalist yet elegant setup imparts a timeless and serene feel, setting the stage for a wedding that exudes both simplicity and refined beauty.
Draped in Subtle Flowers and Lights
Bathed in the soft glow of subtle lights, the grand stage is a captivating canvas of elegance. With an open sky above, a floral wall graces the backdrop, adorned with delicate green leaves. Majestic jhumar chandeliers add a touch of sophistication. Towards the rear, simple hanging lights create a warm ambiance, complementing the overall decor of gentle colors and flowers. This enchanting setup combines simplicity and sophistication, turning the stage into a dreamlike setting under the open sky.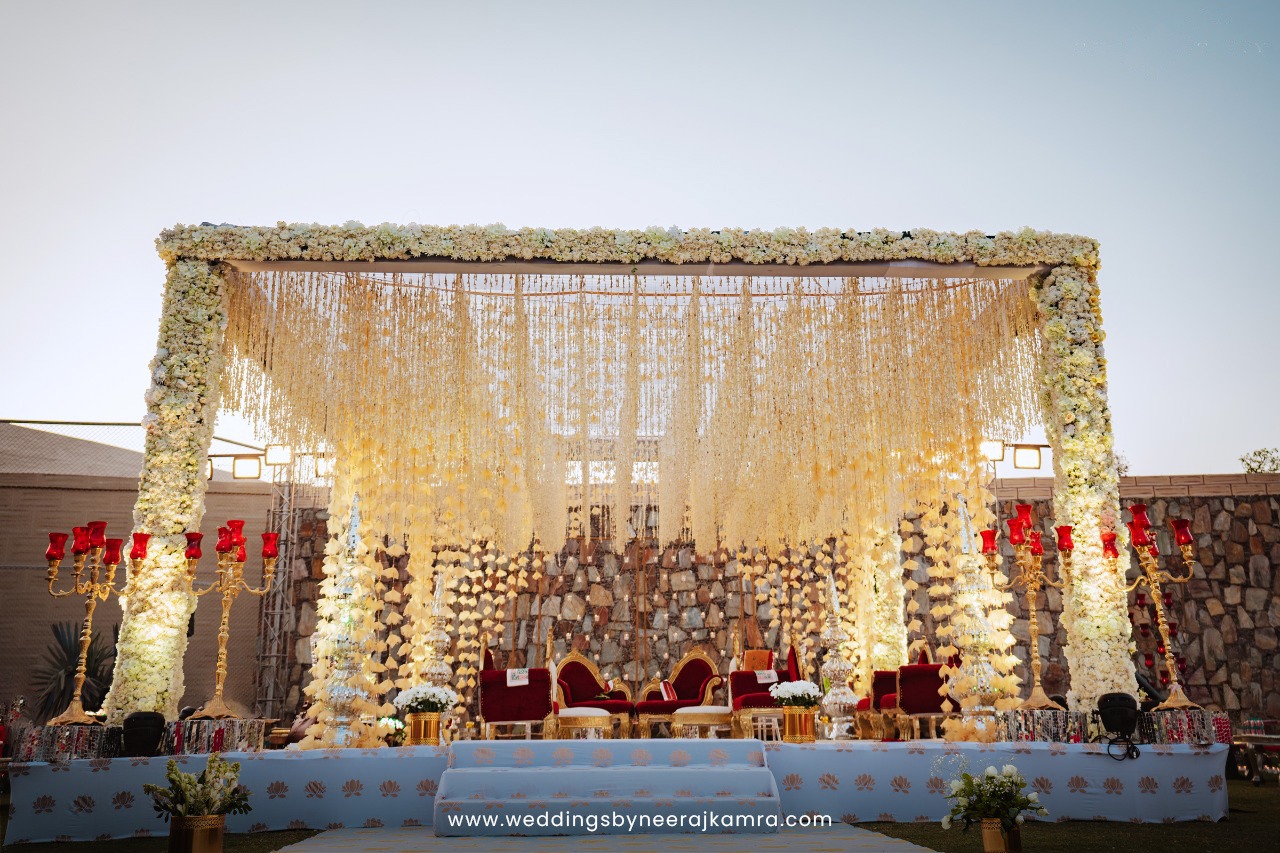 Open Sky Stage Decor
Bask in the charm of an Open Sky Stage Decor, featuring an elegant seating arrangement. Adorned with white floral decor on all sides, the stage is open to the sky, creating a serene ambience. Delicate white drapes hang from above. The stage exudes simplicity and beauty, with candles nestled within lamps, casting a warm and inviting glow. It's a perfect blend of simplicity and elegance for a memorable celebration.
In the grand tapestry of weddings, the stage decoration plays a pivotal role, and Weddings by Neeraj Kamra creative touch transforms these settings into enchanting wonders. From the opulence of traditional Indian themes to the simplicity of open-sky setups, each idea reflects a unique blend of cultural richness and contemporary elegance. As we draw the curtain on this exploration of stage decoration ideas, one can't help but be inspired by Neeraj Kamra's ability to turn dreams into tangible, breathtaking realities. These ideas not only decorate spaces but weave stories, making weddings truly unforgettable. In the hands of Neeraj Kamra, the stage becomes a canvas where love, tradition, and creativity converge in perfect harmony. The best decorators in Udaipur.