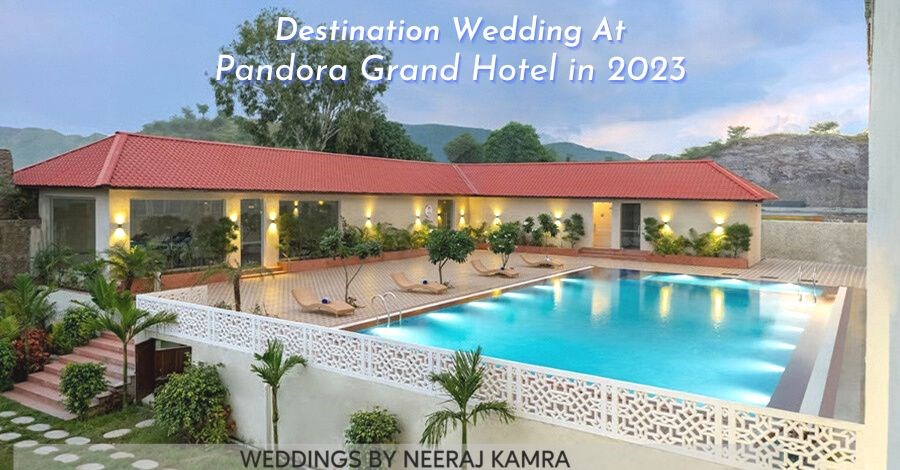 About Pandora Grand Hotel
In Udaipur, Rajasthan, the Pandora Grand is a four-star luxury resort hotel. In order to give visitors an unmatched experience, the hotel offers the ideal fusion of traditional Rajasthani hospitality and contemporary conveniences. The Pandora Grand is the ideal location for tourists looking for comfort, leisure, and luxury thanks to its gorgeous furnishings, roomy accommodations, and first-rate amenities.
There are several different room types available at the resort, including deluxe rooms, suites, and family rooms. Modern conveniences like air conditioning, flat-screen TVs, and free Wi-Fi are provided in every room to make sure visitors enjoy a comfortable and convenient stay.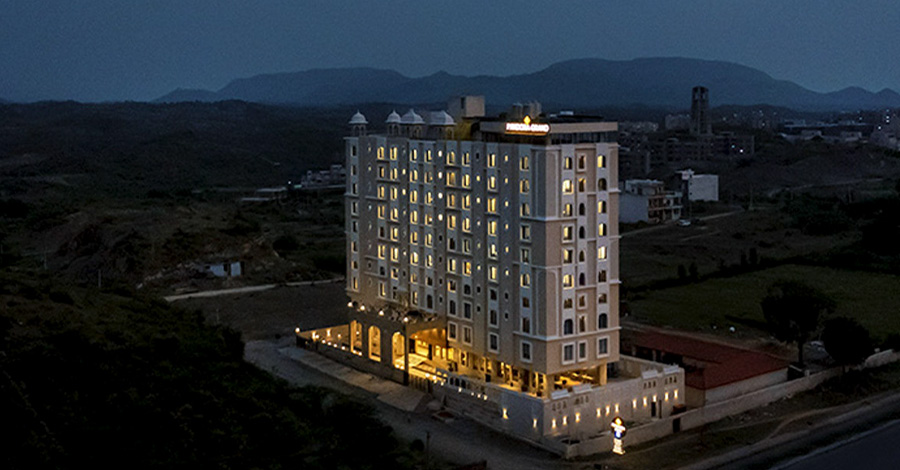 Destination Wedding At Pandora Grand Hotel
Couples seeking to exchange vows in a stunning and exotic place can have a lavish and unforgettable experience at the Pandora Grand Hotel in Udaipur, Rajasthan.
The hotel provides a variety of wedding services and packages, such as:
Beautiful indoor and outdoor wedding venues with stunning views of the city and surrounding landscape, perfect for both intimate and grand celebrations.
A dedicated wedding planning team to assist with every aspect of the wedding, from organizing the ceremony to arranging decorations and entertainment.
A range of catering options, including customized menus and buffet services, to ensure a delicious and memorable dining experience for you and your guests.
Accommodation options for you and your guests, including spacious and well-appointed rooms and suites, ensuring a comfortable and convenient stay.
A range of additional services, such as photography and videography, music and entertainment, and transportation, to make your wedding day truly special and unforgettable.
Pandora Grand Hotel is the perfect destination for couples looking for a romantic and luxurious wedding experience in the heart of one of India's most beautiful and historic cities. With its top-notch facilities, world-class services, and stunning setting, Pandora Grand will ensure that your wedding day is one you will never forget.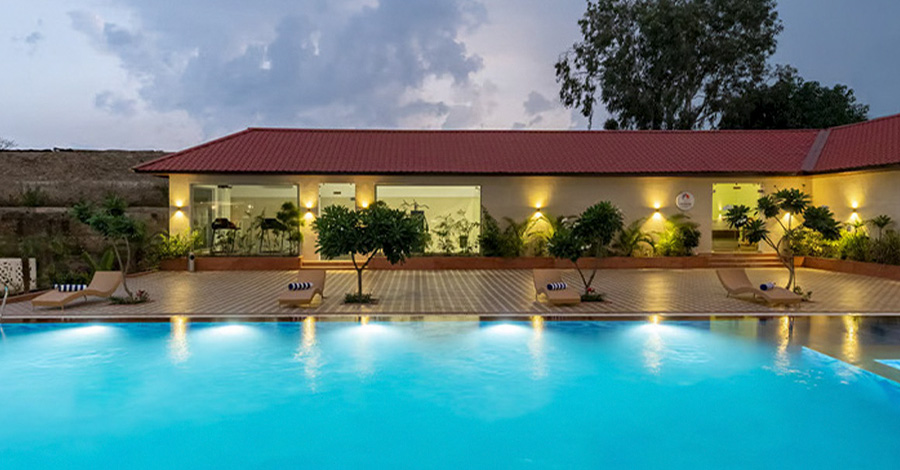 Wedding Cost At Pandora Grand Hotel
The price of a wedding at the Pandora Grand Hotel in Udaipur, Rajasthan, startes from 40-50 lakh on a variety of variables, including as the season, the number of guests, the wedding package chosen, and any extra services or facilities required. For an accurate estimate of the price of your wedding, it is necessary to contact the hotel directly, as it offers a variety of wedding packages, each with its own special features and services.
Destination weddings at five-star hotels like Pandora Grand can generally be more expensive than typical nuptials, but they also come with a number of advantages, including gorgeous settings, first-rate services, and the convenience of having all your wedding-related needs met in one place. Additionally, destination weddings can offer you and your guests a special and unforgettable experience, making the additional cost well worth it.
Keep in mind that the price of your wedding at the Pandora Grand Hotel will probably include not only the ceremony and reception but also lodging for you and your guests, cuisine, and any additional services or amenities you may need. It is recommended to get in touch with the hotel directly for a comprehensive quote if you want a better sense of the overall price of your wedding at the Pandora Grand Hotel.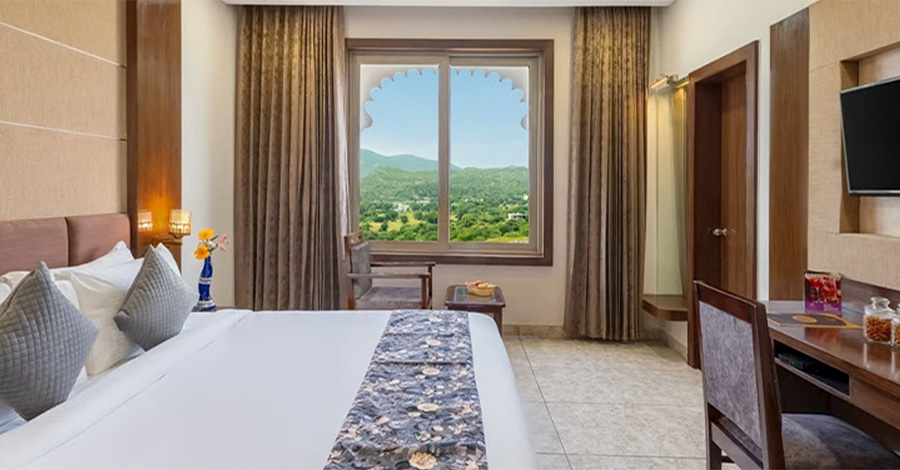 Amenities of Pandora
Pandora Grand Hotel in Udaipur, Rajasthan offers a range of amenities to ensure its guests have a comfortable and convenient stay.
Some of the amenities offered by the hotel include:
Well-appointed rooms and suites, equipped with modern amenities such as air-conditioning, flat-screen TVs, and free Wi-Fi.
A swimming pool for guests to relax and take a dip.
A well-equipped fitness center for guests to stay active and maintain their workout routine.
A spa offering a range of relaxing and rejuvenating treatments for guests to pamper themselves.
Dining options including a restaurant serving international and local cuisine and a bar offering a selection of fine wines and cocktails.
Meeting and conference facilities for business travelers.
Car rental and tour desk services to help guests explore the local area.
24-hour front desk and concierge services to assist guests with any needs or requests they may have.
These amenities, along with the hotel's prime location and traditional Rajasthani hospitality, make Pandora Grand the ideal destination for travelers looking for comfort, luxury, and a memorable stay in Udaipur.
Get a Quote for Wedding on your mail. Place your query via this form :
https://www.weddingsbyneerajkamra.com/wedding-venue/udaipur/pandora/​
For more information contact us @ EMAIL: info@weddingsbyneerajkamra.com, MOBILE: +91-9928544555
Click below for more:
Umaid Bhawan palace wedding cost | Oberoi udaivilas wedding cost | chomu palace wedding cost | Rambagh palace wedding cost | Samode palace wedding cost | Alila diwa goa wedding cost | taj Aravali Udaipur wedding cost | aurika Udaipur wedding cost | wedding planner in Udaipur | Ananta Udaipur wedding cost | Jai mahal palace Jaipur wedding cost | Lalit goa wedding cost | Leela goa wedding cost | Zuri white sands wedding cost | Le Meridien Jaipur wedding cost | goa destination wedding cost | jag mandir Udaipur wedding cost | Leela Udaipur wedding cost | ramada Udaipur wedding cost | destination wedding planner in Udaipur | royal wedding planner in Udaipur | destination wedding in Udaipur | Chunda Palace Wedding Cost | Wedding Planner in Jaipur | Wedding Venues in Udaipur | Wedding Venues in Goa | Wedding Venues in Jaipur | Udaipur Destination wedding cost | Grand Hyatt Goa wedding cost | Hotel Lakend Udaipur wedding cost