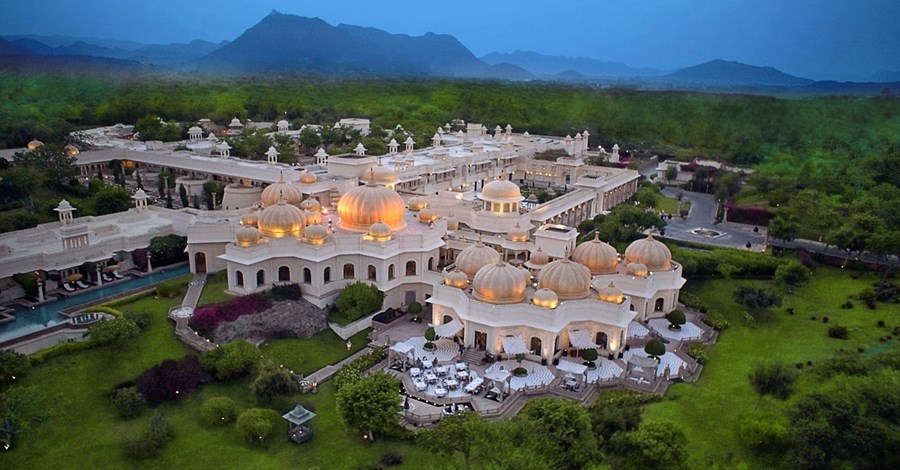 Love stories that transcend boundaries often capture our imagination, especially when they involve two individuals from different worlds of stardom and politics. The upcoming wedding of Bollywood actress Parineeti Chopra and politician Raghav Chadha has created a buzz, with the picturesque Oberoi Udaivilas in Udaipur being the chosen rumoured venue, according to sources. Let's dive into the enchanting love story of Parineeti and Raghav, their engagement, and the excitement surrounding their wedding in the grand setting of Oberoi Udaivilas
A Love Story for the Ages
Parineeti Chopra and Raghav Chadha's love story is one that transcends boundaries. At the intersection of Bollywood and politics, their paths crossed, and they found solace and happiness in each other's company. The couple got hitched in a traditional roka ceremony in April 2023 in front of close relatives and friends. The engagement photos captured their beaming smiles and shared happiness, leaving fans, media, and B-town buzzing around the power couple.
Rajasthan, Where Bollywood Romance Blooms
When it comes to dreamy Bollywood weddings, Rajasthan steals the show! This majestic state is a beloved destination for star-studded celebrations. With its enchanting palaces, vibrant culture, and breathtaking scenery, Rajasthan sets the perfect stage for love to unfold. Celebrities like Priyanka Chopra and Nick Jonas, Kiara Advani and Sidharth Malhotra, Katrina Kaif, and Vicky Kaushal have already tied the knot here, adding to the charm and fascination of Rajasthan's Bollywood wedding saga.
Exclusive inside photos and details
While the couple has remained tight-lipped about their wedding plans, social media has been buzzing with speculation and snippets of information. Photos of Parineeti Chopra in Udaipur surfaced online, fueling excitement among fans. As per the reports, the power couple is planning their grand weeding in Udiapur, Oberoi Udaivilas. The grand affair is expected to attract a star-studded guest list, including A-list celebrities and influential politicians. With such esteemed attendees, the event is set to be a mesmerising fusion of glamour and power.
Oberoi Udaivilas: A Palace of Grandeur
When it comes to fairy tale weddings, the Oberoi Udaivilas in Udaipur reigns supreme. This majestic palace, nestled on the banks of the serene Lake Pichola, is a symbol of opulence and grandeur. Its regal architecture, adorned with intricate carvings and exquisite details, transports you to a world of luxury and romance. The breathtaking views of the lake and the surrounding Aravalli hills create an ethereal ambiance that sets the stage for an unforgettable celebration of love. With its impeccable hospitality and attention to every detail, Oberoi Udaivilas ensures that every moment of your special day is filled with magic and splendour. From lavish wedding ceremonies to enchanting receptions, this iconic venue is a haven where dreams truly come true.
Specialty of Oberoi Udaivilas
1. Stunning Location: Situated on the banks of Lake Pichola in Udaipur, Oberoi Udaivilas enjoys a breathtaking setting with panoramic views of the lake and the surrounding Aravalli hills.
2. Royal Architecture: The palace showcases exquisite Rajasthani architecture with intricate domes, arches, and courtyards, transporting guests to a bygone era of grandeur and opulence.
3. Luxurious Accommodations: Oberoi Udaivilas offers lavish rooms and suites adorned with traditional Indian decor, luxurious amenities, and private courtyards or terraces, providing a regal and comfortable stay for guests.
4. Picture-Perfect Gardens: The hotel boasts meticulously manicured gardens featuring lush lawns, colourful flowers, and serene water bodies, creating an idyllic backdrop for relaxation and events.
5. Fine Dining Delights: Guests can savour culinary delights at the hotel's renowned restaurants, offering a blend of traditional Rajasthani, Indian, and international cuisines, all prepared with the finest ingredients and served with impeccable service.