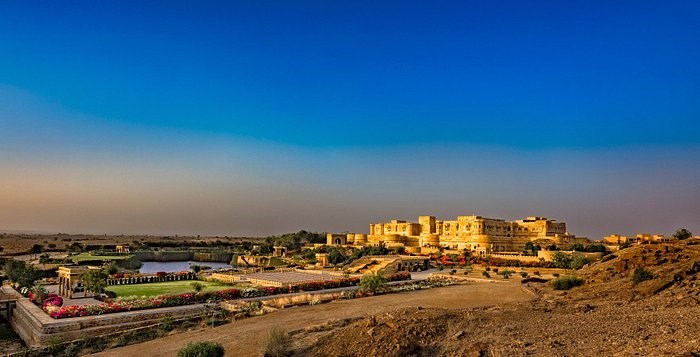 Love is a magical feeling that deserves to be celebrated in the most charming way. Imagine exchanging vows amidst the golden sands of Jaisalmer, surrounded by the grandeur of a majestic palace. Suryagarh, a magnificent luxury hotel located in the heart of the Thar Desert, offers a stunning setting for couples to step into on their journey of love. With its royal charm, warm hospitality, and ultimate service, Suryagarh promises an unforgettable destination wedding experience.
Suryagarh, located in the beautiful desert city of Jaisalmer, is a genuine paradise in the middle of golden sands. You will be met by the glory of Rajasthani architecture as you enter the hotel, which has outstanding carvings, elegant arches, and vibrant colours. The hotel has a royal ambiance that would be ideal for a fairy-tale wedding. For the wedding party and guests, Suryagarh provides a variety of luxurious accommodations. Each accommodation at Suryagarh is created to offer comfort and a sense of Rajasthani splendour, from vast suites decorated with traditional furnishings to luxurious rooms designed to provide ultimate comfort to the guests. includes Pavilion Rooms, Heritage Rooms, Signature Suites, Luxury Suites, Suryagarh Suite, Jaisalmer Haveli, and Thar Haveli.
The committed wedding planners at Suryagarh will work closely with you to design a celebration that is entirely yours, from custom meals highlighting the rich flavours of Rajasthani food to thematic decor that reflects your distinctive flair. Their focus on the details and dedication to delivering perfection on your wedding day will surpass all of your expectations.
Suryagarh Jaisalmer is the ideal option for couples looking for a destination wedding that blends elegance, tradition, and the allure of the desert. Suryagarh provides the perfect backdrop for an unforgettable celebration of love with its rich architecture, luxurious accommodation, magnificent settings, and personalised service. So, as you begin a new chapter in your life together, immerse yourself in the golden sands, experience the warmth of Rajasthani hospitality, and let Suryagarh create a tapestry of lovely memories with your family and friends.
Plan your wedding ceremony in one of the charming locations in Suryagarh. Each place offers a distinctive ambience for your big day, from the elegant Durbar Hall, with its ornate interiors and royal ambiance, to Bawdi, the First Floor Courtyard, and the Celebration Garden, surrounded by the peace of the desert. Whether you want a small-scale wedding or a grand event, Suryagarh provides the ideal location to make your dreams come true.