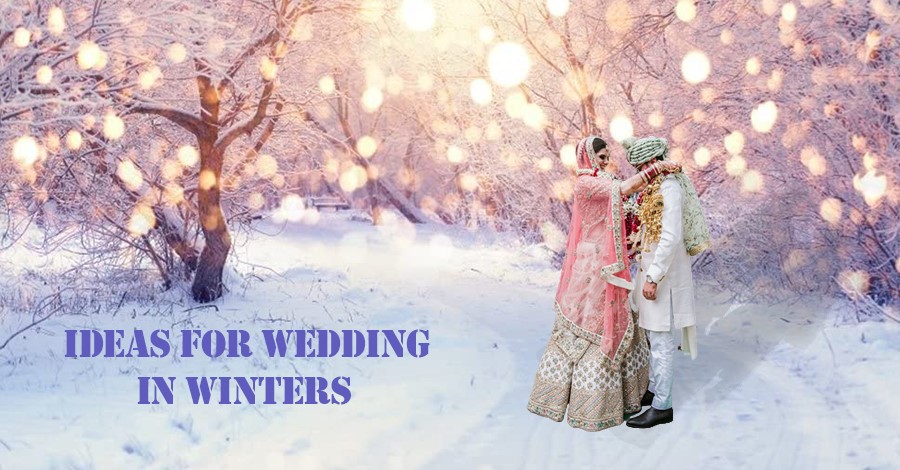 It's all about 'chilled vibes' when it comes to getting married in the season of winter. With little bonfires established across the wedding venue and Hot N Delectable dishes being served, everything is cozy and comfortable sprinkled with the joy of a wedding celebration. However, what makes a wedding truly magical in winter is creativity. Yes! You read that right. With creative and innovative winter wedding ideas, you can escalate the fun of your celebration several notches higher. Scratching your head for such ideas? Well, you don't need to for we have listed several winter wedding ideas for you that you can implement and execute to make your wedding 'A Wedding to Remember.' Enjoy your read!!
Grand Entry:


Make your entrance a unique one. Plan an entry that will grab the eye of everyone present. You could either enter with firecrackers or with your dear friends coloring the environment with the color bombs. As a bride, you can enter in a wedding Palki conveyed by your siblings and friends. Likewise, you can make your entrance while dancing to a famous Bollywood track.



Catering and Decoration:
Quest for the tending decoration thoughts on the web. You can utilize creative thoughts like a desire tree or a photograph stall at the venue. Also, you can decorate the venue utilizing distinctive shaded blossoms. For food, you can add new scrumptious dishes to the menu. Customizing and decorating the food styles in a desired trendy style is also a wise option. Besides, you can utilize beautiful buntings for a similar purpose.

Color Theme:
The choice of color you make for the decoration of the destination matters a lot. You can search the thoughts on the web or counsel a specialist wedding planner. In the cold areas or at hill stations, you can basically go for the rich white color. The seats, tables, couches, roof all hued in white would take the appeal of the wedding destination to the next level.

Perfect seat arrangement:
You can be picky while choosing the color and style of the accessible seating frill. In case you're wedding in open, orchestrate the seats at a cozy place. Be clear while describing your requirements for the decorators. Make your seating unique. You can go for uncommon embellishing wedding couches or a made seat specially made for the couple.

Mandap Decoration:
A wedding Mandap is a special spot where the rituals and traditions of an Indian wedding are completed. Henceforth, you should attempt to give your Mandap the best look you can. You can look over a huge number of alternatives accessible on the web or modify the plan yourself. Mastermind appropriate seating to guarantee the solace of everybody who'll be available at the function.
Benefits of getting married in winters​
There are many advantages of tying knots in winters. Firstly, you get relief from the stress and sweat of the summer. Hair doesn't get frizzy and makeup doesn't get spoil. Secondly, you don't have to take the tension of the wedding venue, you can plan weddings in the open air or in a banquet hall as per your desire.
One can enjoy the occasion to the fullest. Plus, you can wear what you want without any hassle, and enjoy many winter's delicious foods.
Plan your winter wedding by following simple tips or hire the best wedding planner for making your special day more special by their creative ideas. Our team ensures you to make your wedding worth remembering as we are one of the reputed wedding planner in Udaipur - Weddings By Neeraj Kamra.