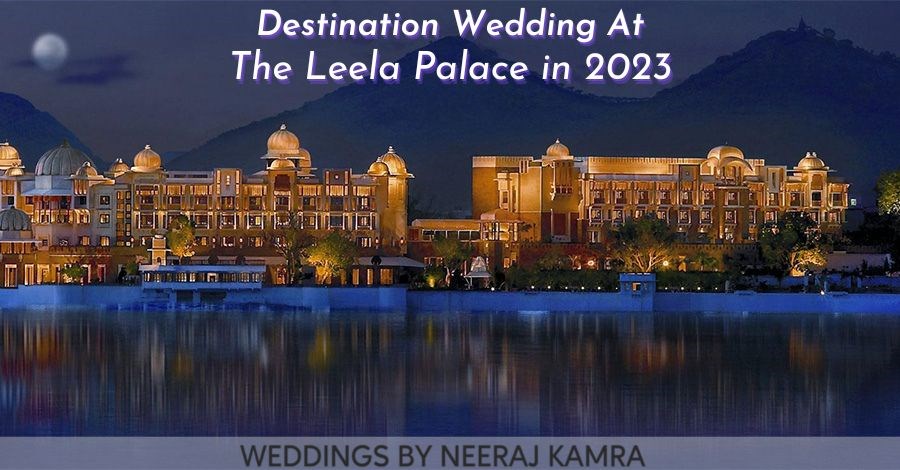 About Leela Palace
In Udaipur, Rajasthan, India, there is a five-star hotel called Leela Palace Udaipur. It is renowned for its lavish architecture, breathtaking views of Lake Pichola, and its sumptuous apartments and suites. The hotel provides a variety of amenities and services, such as several dining options, a spa, a fitness centre, and a swimming pool, to make sure that each visitor has a relaxing and enjoyable stay. It is regarded as one of Udaipur's top luxury hotels and draws visitors from around the globe.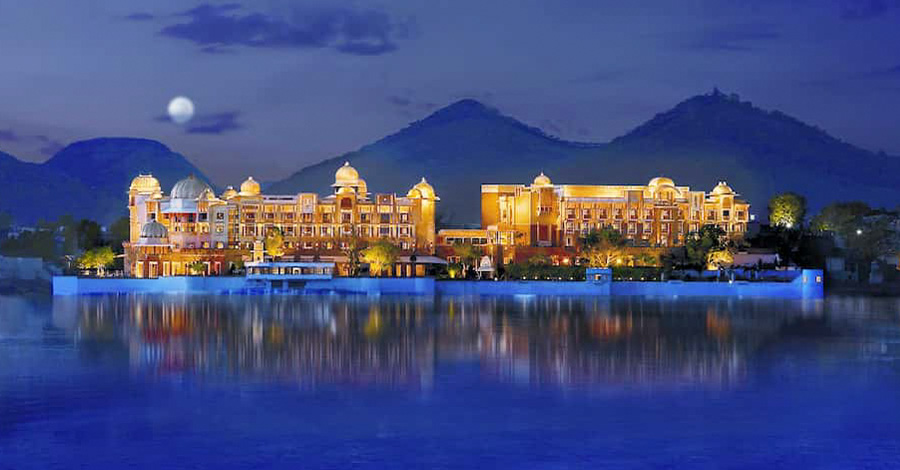 Destination Wedding At Leela Palace
The stunning location for weddings at the Leela Palace Udaipur makes them a remarkable experience for couples. The opulent hotel is situated in Rajasthan's picturesque city of Udaipur and offers breathtaking views of the highlands and Lake Pichola. It is a well-liked option for destination weddings due to the magnificent rooms and suites, lavish décor, and great facilities and services.
The hotel will assist with the couple or their families to organise and arrange every aspect of the wedding, from the location and meal to the décor and special requests. You can also plan welcome cocktails and dinners for your guests, as well as pre-wedding activities like mehendi and sangeet ceremonies.
The hotel will manage all the preparations on the wedding day, from setting up the reception hall to preparing the food. Amidst the natural splendour of Udaipur, the bride and groom will exchange vows in front of their loved ones. A reception and dance round out the festivities, making it a day full of happiness, love, and lifelong memories.
The Leela Palace Udaipur provides a beautiful and romantic location for destination weddings, making it the ideal option for couples looking to plan an event that will be truly memorable.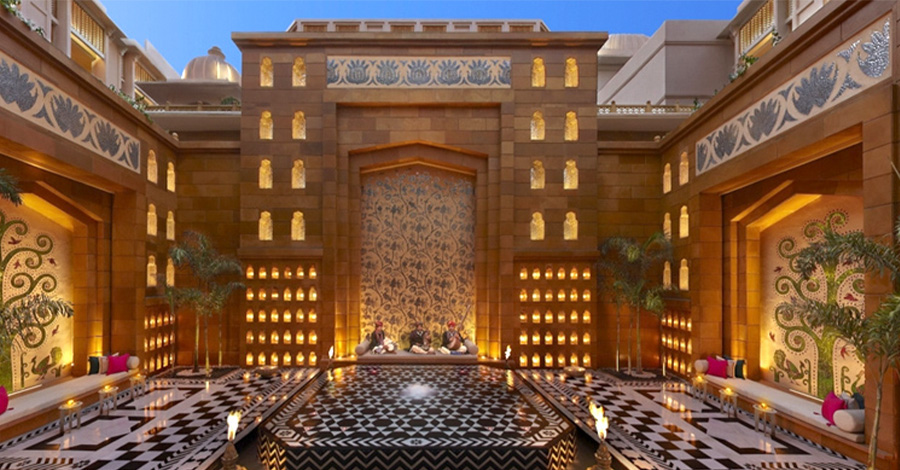 Wedding Cost In Leela Palace Udaipur
A once-in-a-lifetime experience, getting married at Leela Palace Udaipur can also be very expensive. The price of a wedding at this opulent hotel is determined by a number of elements, such as the season, the number of guests invited, and the services and amenities chosen.
Some of the factors that can impact the cost include:
Venue rental: This can be one of the biggest expenses, with different prices for different areas of the hotel, including the outdoor terrace and the grand ballroom.
Catering: The cost of food and beverages will depend on the menu choices, number of guests, and bar services desired.
Decorations and flowers: The hotel can provide these services, but the cost will depend on the type and amount of decor desired.
Photography and videography: This can add an extra cost, but it is worth it to capture the memories of the day.
Accommodations: The cost of staying at Leela Palace Udaipur will depend on the number of rooms needed and the length of the stay.
While a wedding at Leela Palace Udaipur can be expensive, it is a once-in-a-lifetime experience that will create memories to last a lifetime. Couples should consider their budget and determine what services and amenities are most important to them in order to plan a wedding that is both special and affordable.
With a guest list of 175 pax approx, for 80 rooms x 2 nights The Total Expenses for the Leela Palace Udaipur wedding cost will be - 2Cr INR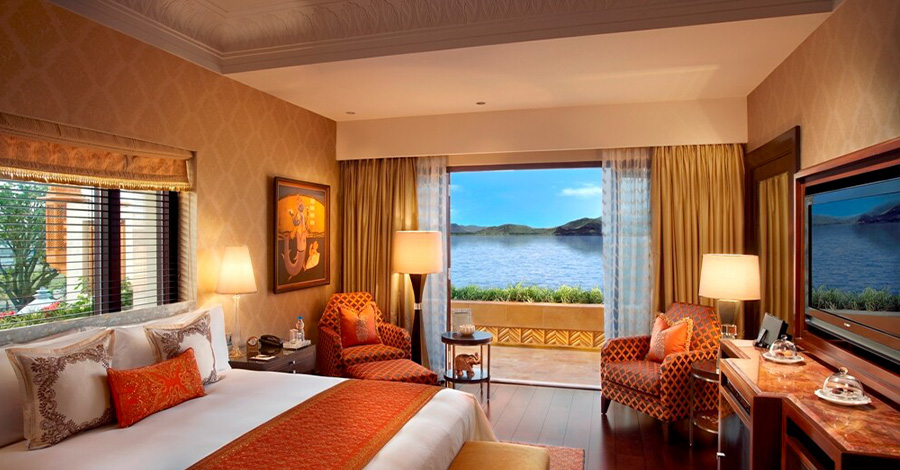 Amenities of Leela Palace
Leela Palace Udaipur offers a range of amenities and facilities to ensure a comfortable and memorable stay for its guests.
Some of the amenities offered include:
Luxury rooms and suites: The hotel features a variety of elegantly designed rooms and suites, each with breathtaking views of Lake Pichola and the surrounding hills.
Dining options: The hotel offers multiple dining options, including an all-day dining restaurant, a fine-dining restaurant, and a bar.
Spa and wellness: The hotel's spa offers a range of treatments and services to help guests relax and rejuvenate.
Swimming pool: The hotel features a large outdoor swimming pool, surrounded by lush gardens and stunning views.
Fitness center: The fitness center is equipped with the latest workout equipment and offers a variety of fitness classes.
Business center: The hotel features a well-equipped business center, with high-speed internet and other amenities.
Conference and event spaces: Leela Palace Udaipur is also a popular choice for conferences, events, and meetings, with several meeting rooms and a grand ballroom available.
Cultural activities: The hotel offers cultural activities and experiences, including classical music performances, dance classes, and cooking demonstrations.
These are just a few of the amenities and facilities offered at Leela Palace Udaipur. Whether you're looking for relaxation, adventure, or luxury, this hotel has something to offer for everyone.
Get a Quote for Wedding on your mail. Place your query via this form :
https://www.weddingsbyneerajkamra.com/wedding-venue/udaipur/leela-palace-udaipur/
For more information contact us @ EMAIL: info@weddingsbyneerajkamra.com, MOBILE: +91-9928544555
Click below for more:
Umaid Bhawan palace wedding cost | Oberoi udaivilas wedding cost | chomu palace wedding cost | Rambagh palace wedding cost | Samode palace wedding cost | Alila diwa goa wedding cost | taj Aravali Udaipur wedding cost | aurika Udaipur wedding cost | wedding planner in Udaipur | Ananta Udaipur wedding cost | Jai mahal palace Jaipur wedding cost | Lalit goa wedding cost | Leela goa wedding cost | Zuri white sands wedding cost | Le Meridien Jaipur wedding cost | goa destination wedding cost | jag mandir Udaipur wedding cost | Leela Udaipur wedding cost | ramada Udaipur wedding cost | destination wedding planner in Udaipur | royal wedding planner in Udaipur | destination wedding in Udaipur | Chunda Palace Wedding Cost | Wedding Planner in Jaipur | Wedding Venues in Udaipur | Wedding Venues in Goa | Wedding Venues in Jaipur | Udaipur Destination wedding cost | Grand Hyatt Goa wedding cost | Hotel Lakend Udaipur wedding cost