About Radisson Blu
Radisson Blu Udaipur Palace Resort & Spa is a luxurious hotel located in Udaipur, Rajasthan, India. It offers a wide range of amenities and facilities to its guests to ensure a comfortable and enjoyable stay.
Some wonderful facilities available at the Radisson Blu Udaipur Palace Resort & Spa include:
Accommodation: The hotel offers well-appointed rooms and suites that are designed with a blend of traditional and modern elements. The rooms are equipped with all the modern amenities like air conditioning, flat-screen TVs, tea/coffee makers, mini-bars, and high-speed internet access.
Dining: The hotel has multiple dining options to cater to the diverse tastes of its guests. It has a rooftop restaurant, a poolside bar, a coffee shop, and a lounge bar.
Spa and wellness: The hotel has a luxurious spa where guests can indulge in a variety of treatments like massages, facials, and body scrubs. It also has a fitness center and a swimming pool.
Events and conferences: The hotel has several venues for hosting weddings, meetings, and other events. It has a ballroom, a conference center, and a banquet hall.
Other facilities: The hotel offers numerous other facilities like 24-hour room service, laundry service, concierge service, and airport transfers.
Overall, Radisson Blu Udaipur Palace Resort & Spa is a wonderful hotel with luxurious facilities that ensure a memorable stay for its guests.
Destination Wedding At Radisson Blu In 2023
If you are interested in hosting a destination wedding at Radisson Blu in Udaipur in 2023, here are the steps you can take:
Contact the hotel: The first step is to contact the hotel's wedding coordinator to check the availability of dates and discuss the requirements for your wedding.
Choose a wedding package: The hotel offers various wedding packages that include different services and amenities. You can select a package that suits your budget and requirements.
Customize your wedding: Once you have selected a package, you can customize it according to your preferences. You can select the decorations, menu, music, and other aspects of the wedding.
Plan the logistics: If you are planning a destination wedding, you will need to arrange for transportation and accommodation for your guests. The hotel can help you with these arrangements.
Obtain necessary permits: If you are hosting a wedding in India, you will need to obtain the necessary permits and licenses. The hotel's wedding coordinator can guide you through the process.
Enjoy your wedding: Once everything is planned and arranged, you can relax and enjoy your wedding at Radisson Blu in Udaipur. The hotel's staff will take care of all the arrangements and ensure that your wedding is a memorable experience.
With a guest list of 200-250 guests, The Total Expenses for Radisson Blu Udaipur Wedding Cost will be - Rs. 20 lakhs - Rs. 70 lakhs.
Keep in mind that the specific steps and requirements may vary depending on your preferences and the hotel's policies. It is recommended to contact the hotel's wedding coordinator for more information and guidance.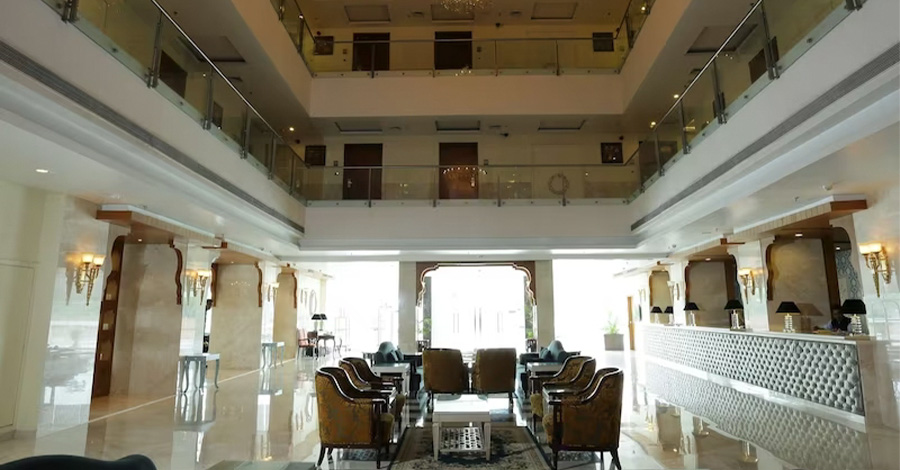 Amenities of Radisson Blu
- Accommodation
- Dining
- Spa and wellness
- Events and conferences
- Other facilities
- Business center
- 24-hour front desk
- Car rental service
- Currency exchange
- Parking
Get a Quote for Wedding on your mail. Place your query via this form :
https://www.weddingsbyneerajkamra.com/wedding-venue/udaipur/radisson-blu/
For more information contact us @ EMAIL: info@weddingsbyneerajkamra.com, MOBILE: +91-9928544555
Click below for more:
Umaid Bhawan palace wedding cost | Oberoi udaivilas wedding cost | chomu palace wedding cost | Rambagh palace wedding cost | Samode palace wedding cost | Alila diwa goa wedding cost | taj Aravali Udaipur wedding cost | aurika Udaipur wedding cost | wedding planner in Udaipur | Ananta Udaipur wedding cost | Jai mahal palace Jaipur wedding cost | Lalit goa wedding cost | Leela goa wedding cost | Zuri white sands wedding cost | Le Meridien Jaipur wedding cost | goa destination wedding cost | jag mandir Udaipur wedding cost | Leela Udaipur wedding cost | ramada Udaipur wedding cost | destination wedding planner in Udaipur | royal wedding planner in Udaipur | destination wedding in Udaipur | Chunda Palace Wedding Cost | Wedding Planner in Jaipur | Wedding Venues in Udaipur | Wedding Venues in Goa | Wedding Venues in Jaipur | Udaipur Destination wedding cost | Grand Hyatt Goa wedding cost | Hotel Lakend Udaipur wedding cost