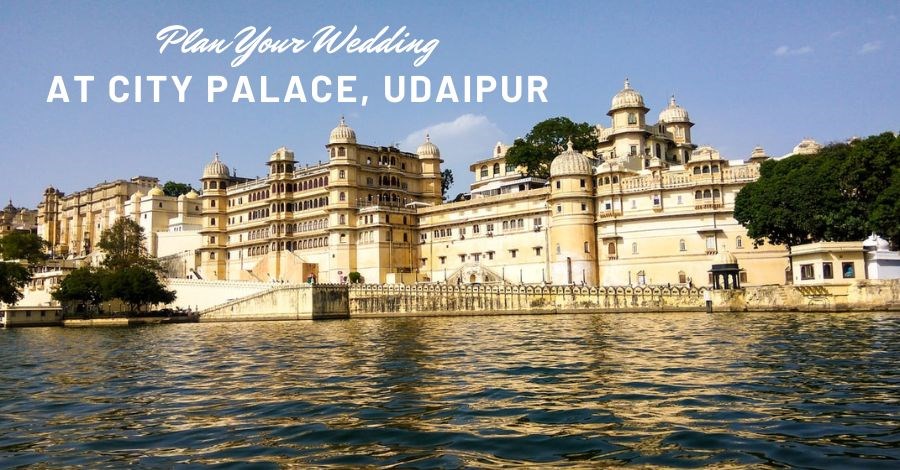 Udaipur City Palace: City Of Lakes
The city of lakes was founded by Maharaja Hari Singh II and is famous for its majestic royal palace. Udaipur would be an excellent choice for a destination wedding.
Everyone dreams of a royal wedding, and if you're one of them, you can't fulfill the dream until you plan a wedding at City Palace Udaipur!
Udaipur has many elegant and luxury venues for destination weddings, including the city palace. Multiple wedding venues are accessible in the city palace. Who may arrange accommodations at the hotels Fateh Prakash and Shiv Niwas Palace, both of which are situated inside the city palace.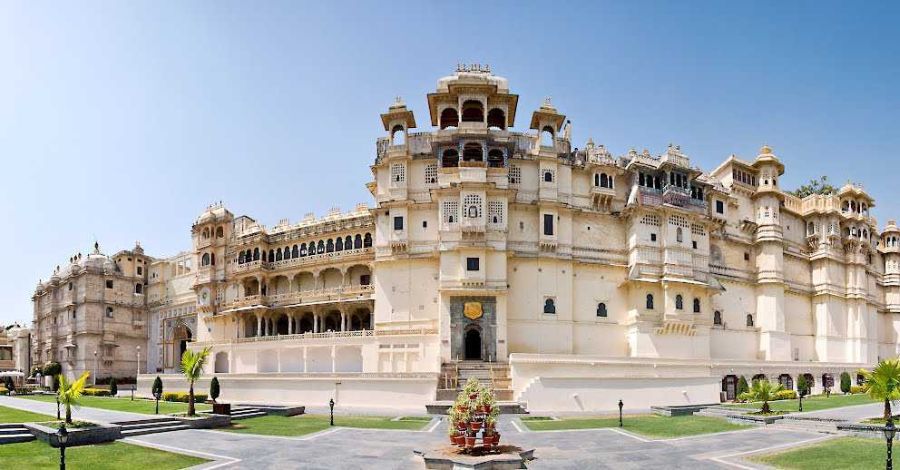 Destination Wedding At City Palace Udaipur
Great Choice! If you are planning for Royal Destination Wedding At City Palace Udaipur. It is a heritage complex with two major heritage hotels, Shiv Niwas Palace and Fateh Prakash Palace, which are still home to the Mewar royal families. The two hotels are now separated into wedding venues. The amazing ambiance and beautiful view make it the best wedding venue in Udaipur.
Shiv Niwas Palace: With 27 rooms and 9 suites, this hotel can accommodate up to 100 guests and provides space for other ceremonies.
Fateh Prakash Palace: This hotel has 16 suites and 48 premier suites; therefore, it can easily accommodate 120-150 guests.
Garden Hotel: The Garden Hotel is located near the City Palace. It contains 29 rooms and is administered by the HRH group as well.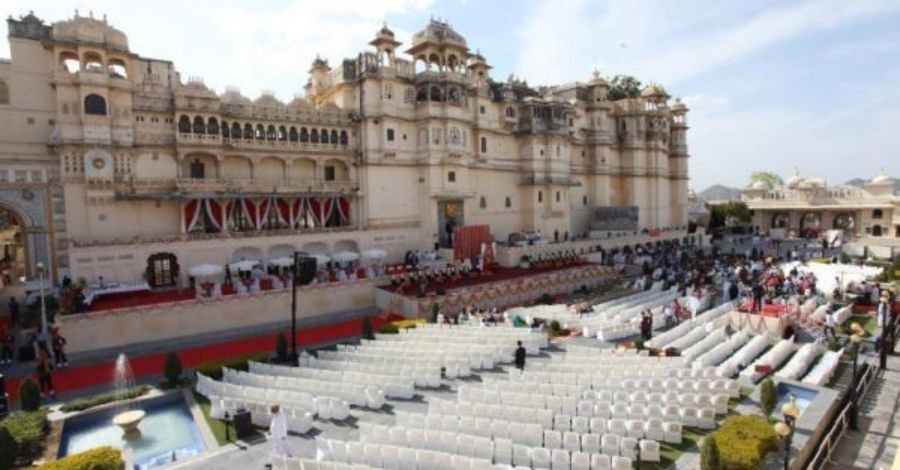 You also have a good variety of wedding venues in Udaipur to choose from-
1. Jagmandir Island Palace: Jagmandir Island Palace, also known as Swarg ki Vatika, is the most expensive of the venues. Many celebrities and high-end weddings have taken place here!
2. Manek Chowk: This palace is ideal for big weddings and features stunning Mughal-style architecture. The media has always been drawn to the extravagance of the events held here.
3. Zenana Mahal: The beautiful glow of candlelight décor at night, flower decoration, and centerpiece fountain all contribute to the magical atmosphere, making this an ideal location for a wedding!
4. Mor Chowk: This palace is ideal for a modest royal Indian wedding, and the venue's tunnel entry with beautiful scenery makes it the perfect choice!
City Palace Udaipur Wedding Cost
The overall cost of a wedding at City Palace Udaipur ranges from Rs. 90 lakhs to Rs. 1.5 crore. A lavish wedding at the Udaipur Palace may cost more than Rs 2 crore. The overall wedding cost includes the cost of the wedding venues, hotel rooms, catering, and wedding decorations.
Wedding packages include services such as wedding decorating, sound setup, transportation, and guest management. At City Place, we provide custom wedding packages so that your wedding may be planned within your budget while considering your preferences. We make it happen by arranging for decorating and other preparations through our approved vendors.
​
With a guest list of 250 guests, Approximately The Total Expenses for City Palace Udaipur Wedding Cost will be - Rs. 90 lakhs - Rs. 1.5 crore.
Weddings By Neeraj Kamra: One of the Best Wedding Planning Company In Udaipur. Please get in touch with us for an exact quote based on your requirements at the mentioned cost.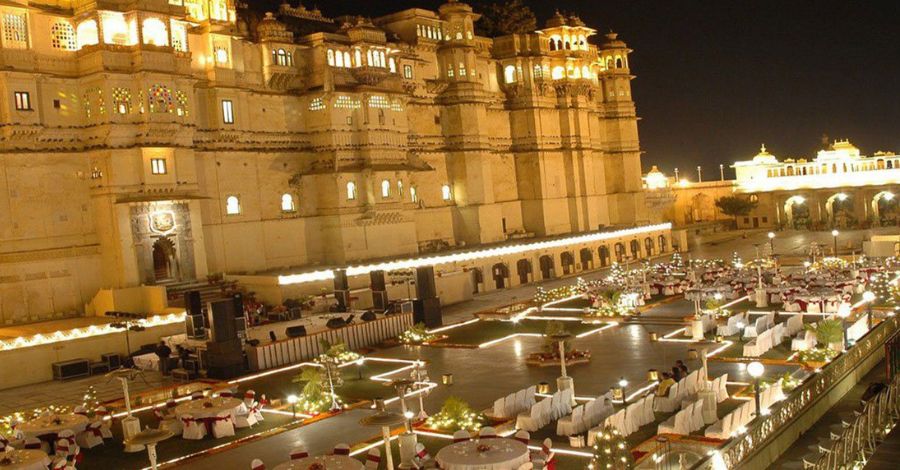 The overall cost of organizing a royal wedding in City Palace Udaipur with our bespoke package is likely to be between Rs. 90 lakhs and Rs. 1.5 Crore, depending on the time of year, guest count, and your preferences.
If you wish to organize a Palace wedding at the City of Lakes or learn more about other wedding venues in Udaipur, don't hesitate to contact Weddings By Neeraj Kamra for a quotation.
Here are to list a few:
Wedding decor:-
1. Mandap: To improve the attractiveness of your mandap area, use soothing shades or captivating lighting.
2. Table and chairs: To avoid inconvenience, make seating arrangements for all guests.
3. Aisle: You may draw attention to your hallway and walkway down the aisle with props like flowers in a jar or exquisite, fancy ribbons.
4. Centerpieces: Include gorgeous centerpiece vases in your wedding decor to show your luxury.
5. Stage: The stage is a major attraction and must be attractively decorated.
6. Dance floor: Set up a dance floor with all the essential equipment.
7. Lighting: Make sure your lighting is appropriate, and there are no dead spots.
8. LED: LEDs make everything appear more attractive and subtle, so make good use of them.
9. Floral decor, etc.: Choose between marigolds and jasmine depending on the traditional ritual and wedding theme.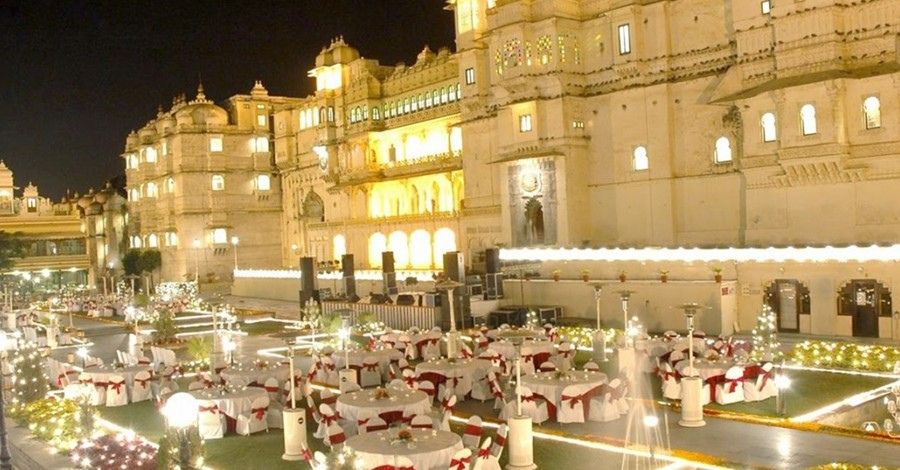 1. Photography: Contact an expert photographer and offer accurate information to him.
2. Transportation and Logistics: Keep an ongoing list of everything you'll require for your wedding.
3. Sound And DJ Setup: In advance, inform the DJ about the mood and design of your event.
4. Baraat [Horses, Camels, Elephant, Lavasma, Brass Band, etc.]: Make appropriate arrangements in advance to avoid gaps in preparations.
5. Makeup and Mehendi artists: Inform your Mehendi and makeup artist about your preferences in every category.
Get a Quote for Wedding on your mail. Place your query via this form :
https://www.weddingsbyneerajkamra.com/wedding-venue/udaipur/city-palace-udaipur/
For more information contact us @ EMAIL: info@weddingsbyneerajkamra.com, MOBILE: +91-9928544555
Click below for more:
Umaid Bhawan palace wedding cost | Oberoi udaivilas wedding cost | chomu palace wedding cost | Rambagh palace wedding cost | Samode palace wedding cost | Alila diwa goa wedding cost | taj Aravali Udaipur wedding cost | aurika Udaipur wedding cost | wedding planner in Udaipur | Ananta Udaipur wedding cost | Jai mahal palace Jaipur wedding cost | Lalit goa wedding cost | Leela goa wedding cost | Zuri white sands wedding cost | Le Meridien Jaipur wedding cost | goa destination wedding cost | jag mandir Udaipur wedding cost | Leela Udaipur wedding cost | ramada Udaipur wedding cost | destination wedding planner in Udaipur | royal wedding planner in Udaipur | destination wedding in Udaipur | Chunda Palace Wedding Cost | Wedding Planner in Jaipur | Wedding Venues in Udaipur | Wedding Venues in Goa | Wedding Venues in Jaipur | Udaipur Destination wedding cost | Grand Hyatt Goa wedding cost | Hotel Lakend Udaipur wedding