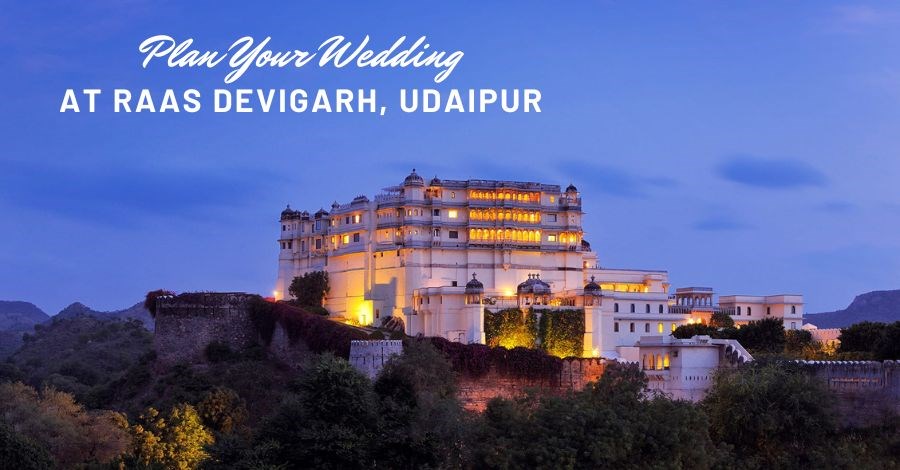 Raas Devigarh Palace Eklingji, Udaipur
Raas Devigarh is situated near the Eklingji Temple Delwara in Udaipur, Rajasthan. Raas Devigarh in Udaipur is a venue with a serene ambiance and vast interiors suitable for events of all kinds. Udaipur is known as the city of lakes and palaces. Among all cities in the state of Rajasthan, the white-colored building of Devigarh Palace across the city depicts a peaceful yet majestic environment.
The venue opened its doors to the general public a few years ago. The venue has hosted many unforgettable events and maintains excellent standards so that every guest can enjoy their event without worry. Raas Devigarh, Udaipur, can provide its guests with delicious vegetarian and non-vegetarian cuisine. They have in-house decorators that may help you enhance the lawn.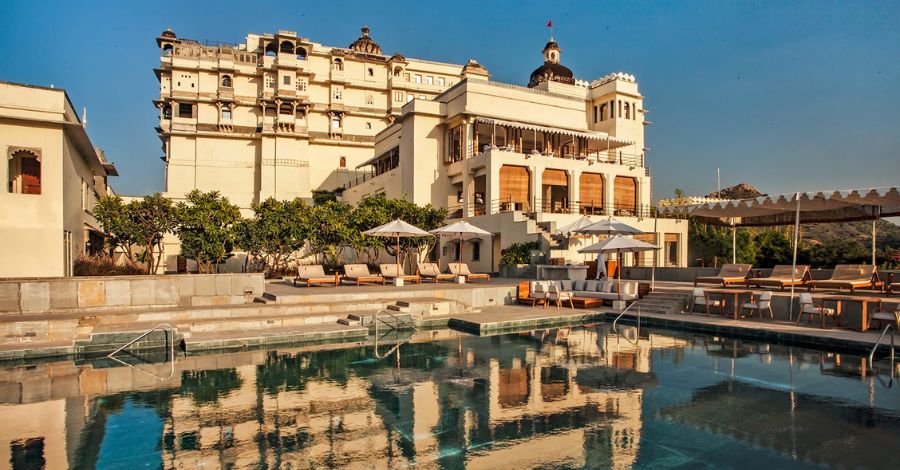 Destination Wedding At Raas Devigarh Udaipur
The RAAS Devi Garh palace, the Perfect venue for a Destination Wedding in Udaipur, located at the foothills of the Aravali hills, reflects the beauty and charm of the ancient kingdom. The decorative styles and landscaped gardens make this venue ideal for your destination wedding. As a heritage hotel, the palace provides the best of both worlds - modern and traditional wedding events. The Raas Devigarh Palace offers everything, whether looking for the perfect romantic vacation or a palace for a grand wedding.
Planning a Destination Wedding, They have the locations to complement your royal wedding at Raas Devigarh Udaipur.
1. The Main Lawn accommodates up to 220-300 guests.
2. The Garden Lawn accommodates up to 100-150 guests.
3. Poolside and Reception Lawn, accommodate Upto 100-120 guests.
4. The Restaurant accommodates up to 84-100 guests.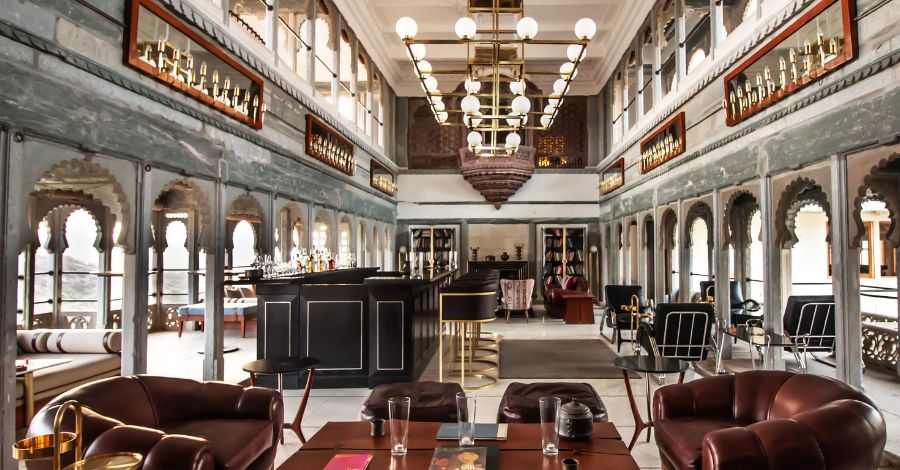 Raas Devigarh Udaipur Wedding Cost
Cost of Destination Wedding At Raas Devigarh Udaipur may be calculated based on your needs, preferences, and service requirements. The Raas Devigarh wedding package includes a wide range of services, such as decorators, cuisine, and catering. This package offers more cost-effective services than hiring several vendors. The hotel offers everything from chefs to in-house decorators. Take advantage of world-class experiences for pre-wedding and post-wedding events and functions. The hotel has a welcoming atmosphere and treats each guest with respect. Enjoy the benefits of the great deals to get started with the best hotel in the world.
With a guest list of 200-250 guests, The Total Expenses for Raas Devigarh Udaipur Wedding Cost will be - Rs. 25 lakhs - Rs. 90 lakhs.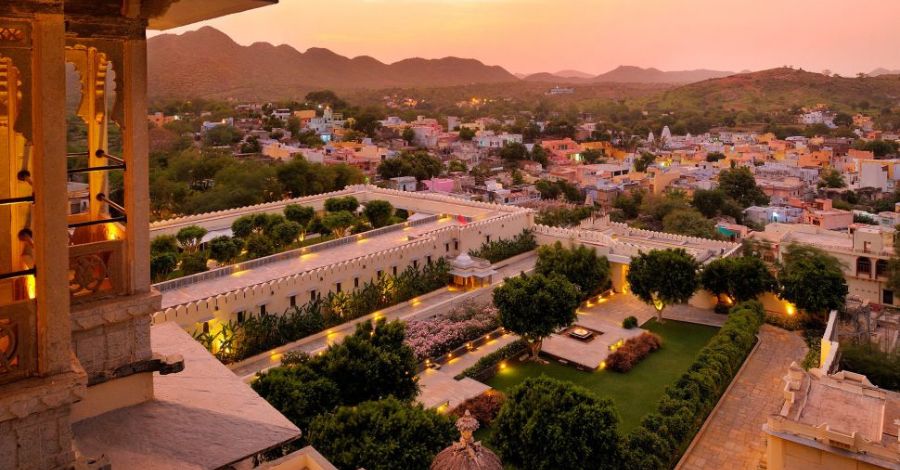 If you want to maximize your investment and organize your wedding perfectly, the skilled team at Weddings By Neeraj Kamra is ready to assist you from beginning to end. We help you organize your wedding within your budget and find affordable accommodation at the Devigarh Palace Wedding cost. Please get in touch with our team as soon as possible.
Here are to list a few:
Wedding Decor:
1. Mandap: Decorate your mandap area with pleasing colors or nice lighting.
2. Table and chairs: Make sure that all visitors are appropriately seated to avoid discomfort.
3. Aisle: Flowers in a jar or elegant floral ribbons will make you stand out as you go down the aisle.
4. Centerpieces: Choose some magnificent centerpieces for your wedding decor to showcase your wealth.
5. Stage: Explore the various stage decorations available.
6. Dance floor: Set up a dance floor depending on your interests.
7. Lighting: Make sure your lighting is appropriate, and there are no dead spots.
8. LED: LEDs make everything seem lovely and subtle, so use them with care.
9. Floral decor, etc.: Choose marigolds and jasmine depending on traditional rituals and wedding themes.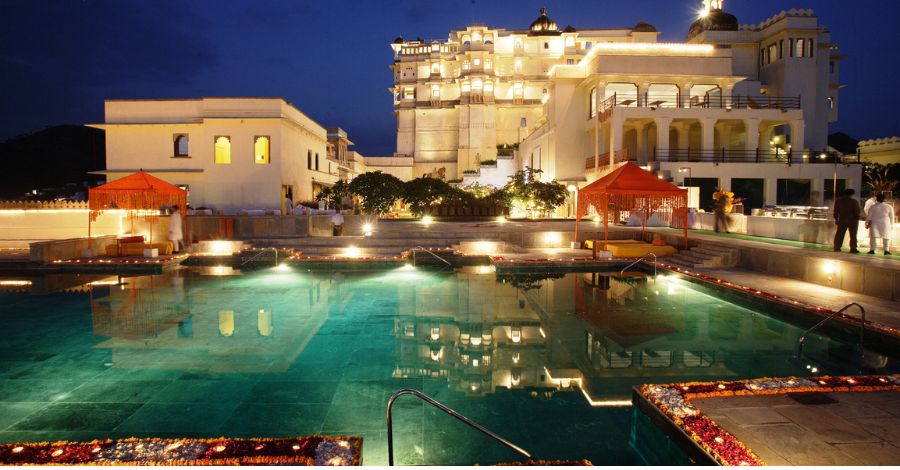 1. Photography: Make an appointment for your photographer and provide him with the necessary information.
2. Transportation and Logistics: Make a checklist of everything you'll need for the wedding.
3. Sound and DJ setup: In advance, inform the DJ about the concept and arrangement of your event.
4. Makeup and mehndi artists: Inform your Mehndi and makeup artist about your preferences in each category.
5. Folk artists: Arrange for a local band to play at your wedding to add to the mood.
Get a Quote for Wedding on your mail. Place your query via this form :
https://www.weddingsbyneerajkamra.com/wedding-venue/udaipur/devigarh/
For more information contact us @ EMAIL: info@weddingsbyneerajkamra.com, MOBILE: +91-9928544555
Click below for more:
Umaid Bhawan palace wedding cost | Oberoi udaivilas wedding cost | chomu palace wedding cost | Rambagh palace wedding cost | Samode palace wedding cost | Alila diwa goa wedding cost | taj Aravali Udaipur wedding cost | aurika Udaipur wedding cost | wedding planner in Udaipur | Ananta Udaipur wedding cost | Jai mahal palace Jaipur wedding cost | Lalit goa wedding cost | Leela goa wedding cost | Zuri white sands wedding cost | Le Meridien Jaipur wedding cost | goa destination wedding cost | jag mandir Udaipur wedding cost | Leela Udaipur wedding cost | ramada Udaipur wedding cost | destination wedding planner in Udaipur | royal wedding planner in Udaipur | destination wedding in Udaipur | Chunda Palace Wedding Cost | Wedding Planner in Jaipur | Wedding Venues in Udaipur | Wedding Venues in Goa | Wedding Venues in Jaipur | Udaipur Destination wedding cost | Grand Hyatt Goa wedding cost | Hotel Lakend Udaipur wedding cost