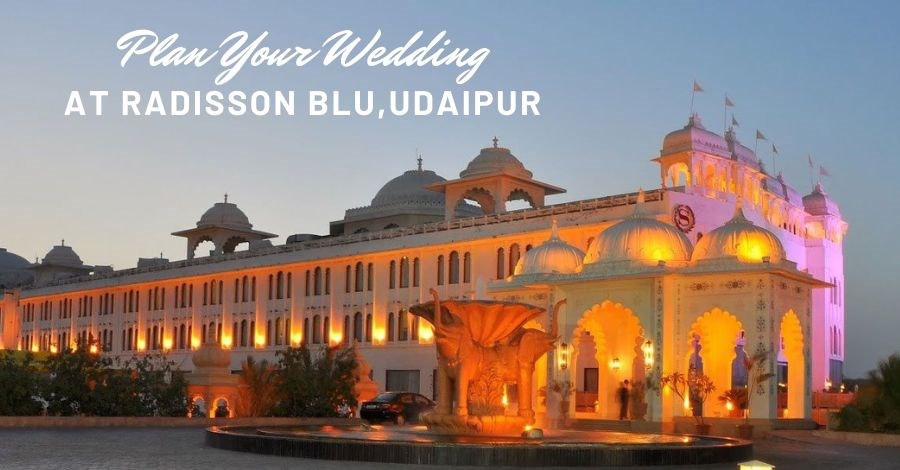 Radisson Blu Udaipur Palace Resort & Spa
The Radisson Blu Udaipur Palace Resort & Spa, located just south of Fateh Sagar Lake and bordering a thick jungle, places visitors in a scenic area of Rajasthan. The property is easily accessible by automobile from the city's several entrance points, including the airport, bus station, and train station.
The Rajasthan's City of Lakes, known for its parks, temples, and historic palaces, serves as the romantic ambiance for the luxurious Radisson Blu Udaipur Palace Resort & Spa. Our location, which overlooks Fateh Sagar Lake, is near city enterprises and prominent attractions like the imposing City Palace and beautiful decorative gardens like Saheliyon-ki-Bari.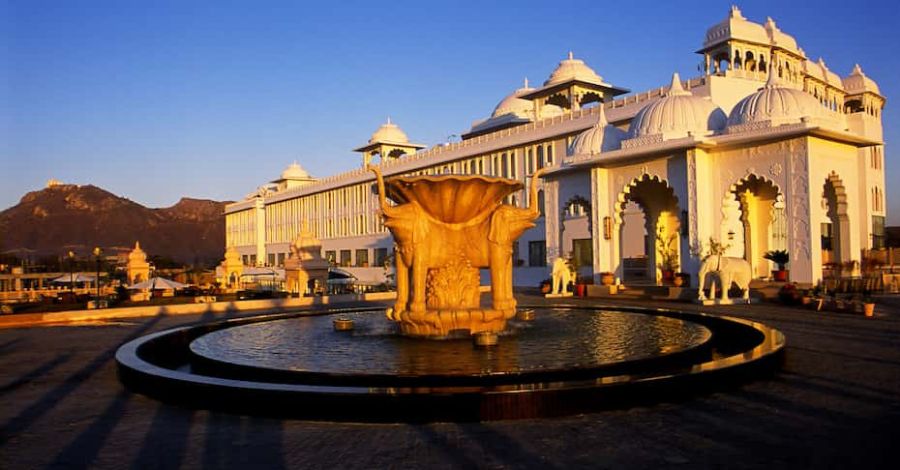 Destination Wedding At Radisson Blu Udaipur
The Radisson Blu Udaipur Palace Resort and Spa offers a wide selection of events, from business meetings to lavish celebrations, including indoor and outdoor event areas. Our hotel is a popular wedding destination since it has the most prominent function hall in Rajasthan to enjoy an amazing Destination Wedding At Radisson Blu Udaipur. Your guests will also enjoy the spacious parking for automobiles and buses, as well as our transport services to and from the airport and railway station. Our stylish restaurants and bars are ideal for informal events such as birthday celebrations or client lunches.
Our event facilities also include the state's largest pillarless ballroom, measuring 557 square meters. An indoor cocktail reception at the Fateh Sagar Ballroom may seat up to 800 people. If you need even more space, the ballroom and Fateh Sagar Lawn can be combined to accommodate up to 1,500 guests.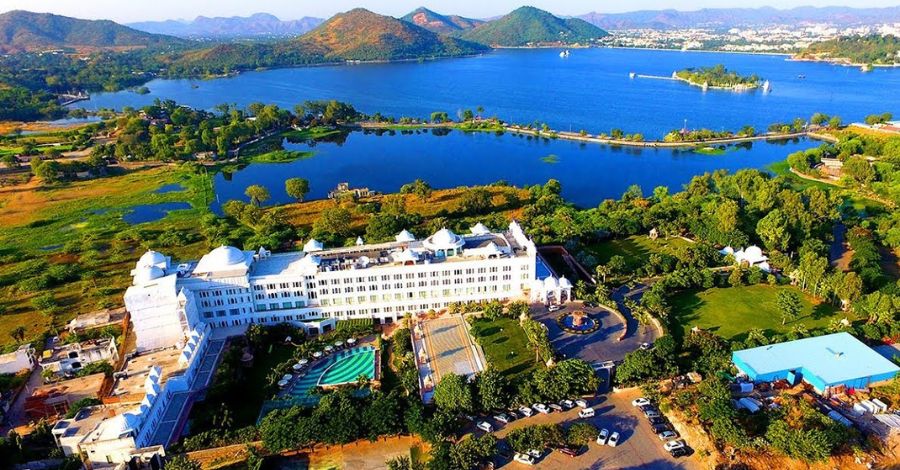 Radisson Blu Udaipur Wedding Cost
A grand wedding venue, such as Radisson Blu Udaipur, is perfect for a small to the large-scale wedding.
We provide unique packages to help you plan your destination wedding within your budget. We make it happen by using our recommended vendors for decorating and other preparations.
With a guest list of 200-250 guests, The Total Expenses for Radisson Blu Udaipur Wedding Cost will be - Rs. 20 lakhs - Rs. 70 lakhs.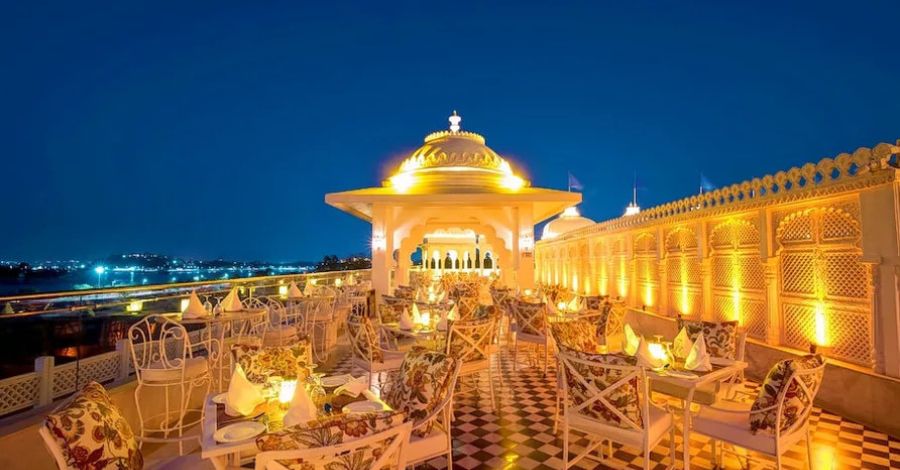 Here are to list a few:
Wedding decor:
1. Mandap: Decorate your mandap area with pleasant colors or attractive lighting.
2. Table and chairs: To avoid any pain, make sure that all guests are properly seated.
3. Aisle: Props like flowers in a jar or fancy flowery ribbons might help you stand out as you go down the aisle.
4. Centerpieces: Place some impressive centerpieces for your wedding decor to show off your richness.
5. Stage: Look through the numerous stage decorations available.
6. Dance floor: Set up a dance floor according to your needs.
7. Lighting: Make sure your lighting is sufficient so that there are no dead spots.
8. LED: LEDs make everything appear nice and subtle, so use them carefully.
9. Floral decor, etc.: Depending on the traditional ritual and wedding theme, choose between marigolds to jasmine.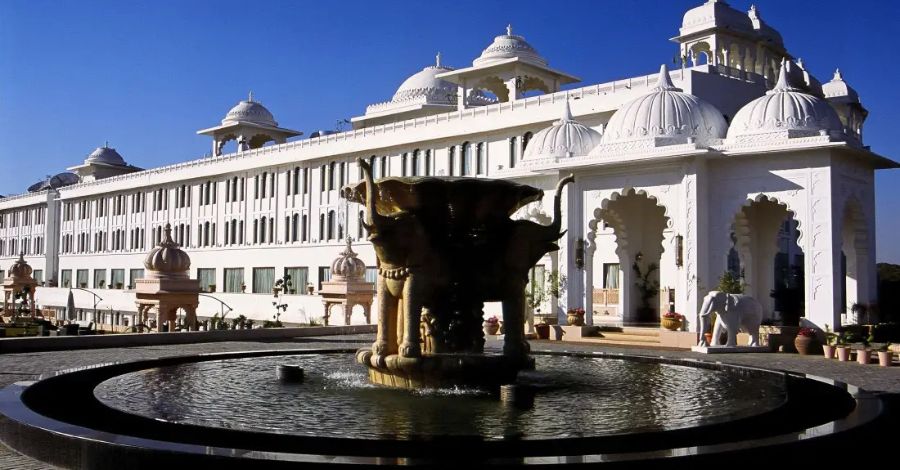 1. Photography: Pre-book your photographer and provide him with accurate information.
2. Transportation and Logistics: Keep note of everything you'll need for your wedding.
3. Sound and DJ setup: Inform the DJ about the theme and layout of your event in advance.
4. Makeup and mehndi artists: Inform your Mehndi and makeup artist about your choices in the various categories.
5. Folk artists: Arrange for some performances from a local group to enhance the mood of your wedding.
Get a Quote for Wedding on your mail. Place your query via this form :
https://www.weddingsbyneerajkamra.com/wedding-venue/udaipur/radisson-blu/
For more information contact us @ EMAIL: info@weddingsbyneerajkamra.com, MOBILE: +91-9928544555
Click below for more:
Umaid Bhawan palace wedding cost | Oberoi udaivilas wedding cost | chomu palace wedding cost | Rambagh palace wedding cost | Samode palace wedding cost | Alila diwa goa wedding cost | taj Aravali Udaipur wedding cost | aurika Udaipur wedding cost | wedding planner in Udaipur | Ananta Udaipur wedding cost | Jai mahal palace Jaipur wedding cost | Lalit goa wedding cost | Leela goa wedding cost | Zuri white sands wedding cost | Le Meridien Jaipur wedding cost | goa destination wedding cost | jag mandir Udaipur wedding cost | Leela Udaipur wedding cost | ramada Udaipur wedding cost | destination wedding planner in Udaipur | royal wedding planner in Udaipur | destination wedding in Udaipur | Chunda Palace Wedding Cost | Wedding Planner in Jaipur | Wedding Venues in Udaipur | Wedding Venues in Goa | Wedding Venues in Jaipur | Udaipur Destination wedding cost | Grand Hyatt Goa wedding cost | Hotel Lakend Udaipur wedding cost