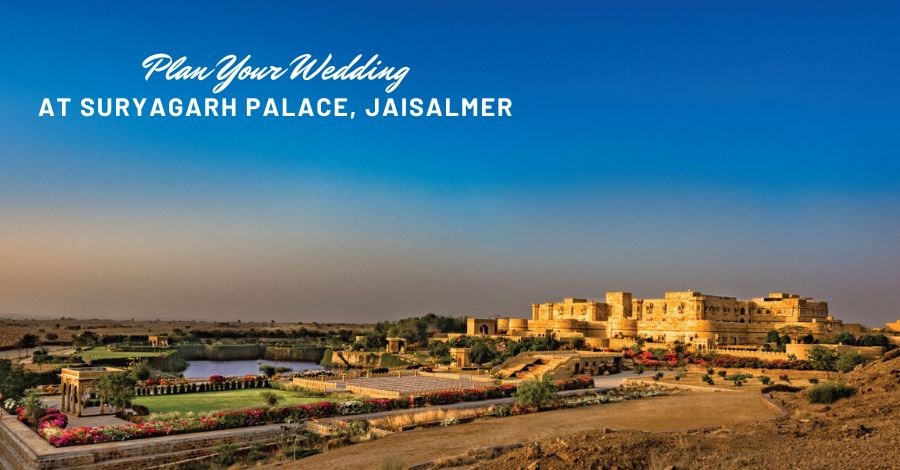 Suryagarh Palace, Jaisalmer
Suryagarh is located near Kahala Phata, Sam Road, Jaisalmer, Rajasthan. It is 15 km from the Bara Bagh temple and 7 km from the deserted village of Kuldhara.
Suryagarh is situated on a hilltop with views of the Thar Desert in the west and the ancient city of Jaisalmer in the east. Its beautiful surroundings offer backdrops and locations straight out of a royal fairy tale. While planning a romantic palace destination wedding in Jaisalmer, the property offers six wedding venues, including gardens and courtyards that will surprise you. Around INR 63 Lakhs, including accommodation and food, is the average cost of arranging a wedding in this region.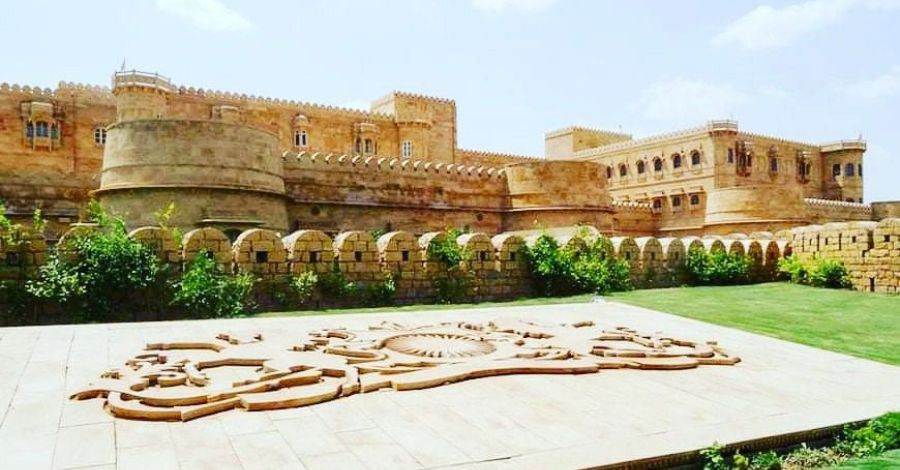 Destination Wedding At Suryagarh Palace, Jaisalmer
Destination Wedding At Surya Garh Palace in Jaisalmer is an excellent choice. Its world's best services, luxurious furnishings, and attractive exteriors with Rajput gardens and courtyards provide many venue options for the dream wedding. The most beautiful venues for a wedding in Jaisalmer are 83 luxury guest rooms and suites with modern facilities. One of the key features of organizing a big wedding party is the Courtyard and the two gardens.
With Suryagarh as your destination wedding venue, you can be sure that your special day will be nothing short of amazing, with a choice of mesmerizing entertainment, unparalleled service, and food and beverage options. This venue is undoubtedly the best destination wedding resort in Jaisalmer, thanks to its lavish decor and cutting-edge service. Both the sizes of continental meals and the local Rajasthani food will impress your guests.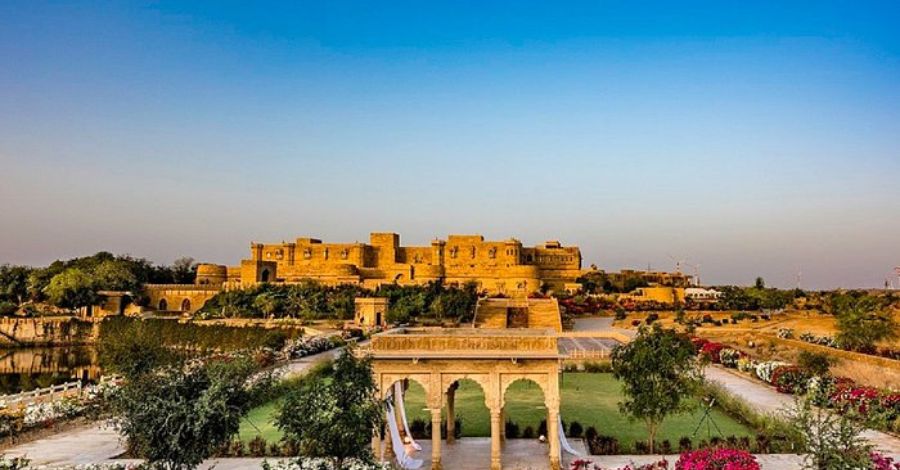 Suryagarh Jaisalmer Wedding Cost
Suppose you've chosen to organize your destination wedding in Jaisalmer. Then Surya Garh Palace is the only destination to visit. Now, if you're wondering how much a destination wedding at Surya Garh Palace costs, Here is an estimate of the food costs for a destination wedding at Surya Garh Palace. Price estimates for lunch and dinner are 2500Rs to 3500Rs and 4500Rs to 5500Rs, respectively. Therefore, a two-time lunch for 200 guests will cost you between 16 and 18 lakh rupees.
At Surya Garh Palace, there are 83 luxurious rooms and suites. The average room cost can vary from 20,000 to 40,000 rupees. This indicates that a night's stay would cost you between Rs. 30 lakh and Rs. 40 lakh for a guest list of 200-250 people. You must include the costs for decorations and other activities of your choice, as well as transportation, to the abovementioned fees. At the Surya Garh Palace in Jaisalmer, your special day may be planned for around 70 to 90 lakhs.
With a guest list of 200-250 guests, Approximately The Total Expenses for Surya Garh Jaisalmer Wedding Cost will be - Rs. 70 lakhs - Rs. 90 lakhs.
Weddings By Neeraj Kamra: One of the Best Wedding Planners In Udaipur, Rajasthan. Please get in touch with us for an exact quote based on your requirements at the mentioned cost.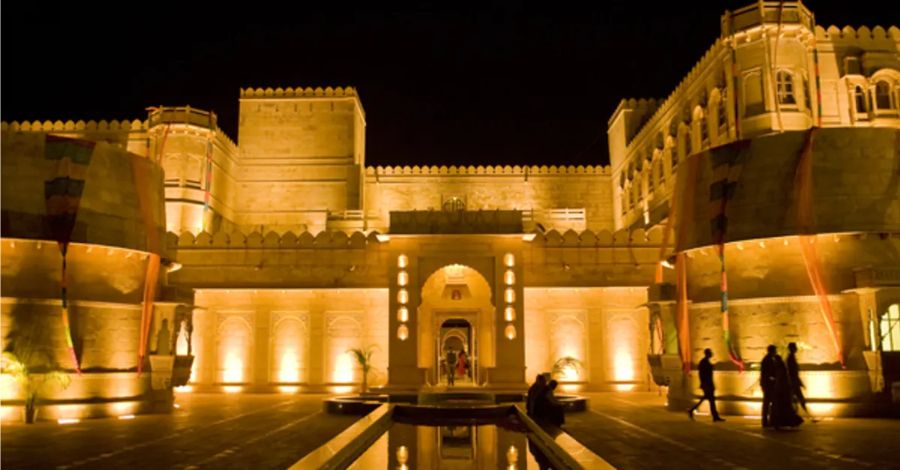 Here are to list a few:
Wedding decor:
1. Mandap: Contact your wedding decorator for ideas on how to put up the perfect mandap.
2. Table and chairs: For everyone's comfort, there should be a proper seating arrangement with the appropriate number of seats.
3. Aisle: Setting up your magnificent aisle within its beautiful grounds at the Surya Garh Palace in Jaisalmer is a dream come true.
4. Centerpieces: Put some beautiful centerpieces vases for your wedding decor on the table to enhance the occasion's atmosphere.
5. Stage: The stage is the area of interest. It must be beautifully decorated.
6. Dance floor: Create a dance floor with the necessary equipment according to your needs.
7. Lighting: Make sure the lighting is enough. Golden tones make the palace appear positively magical.
8. LED: LED lighting will give the location more character.
9. Floral decor, etc.: Depending on the wedding's traditional ritual and theme, choose from marigold to jasmine alternatives.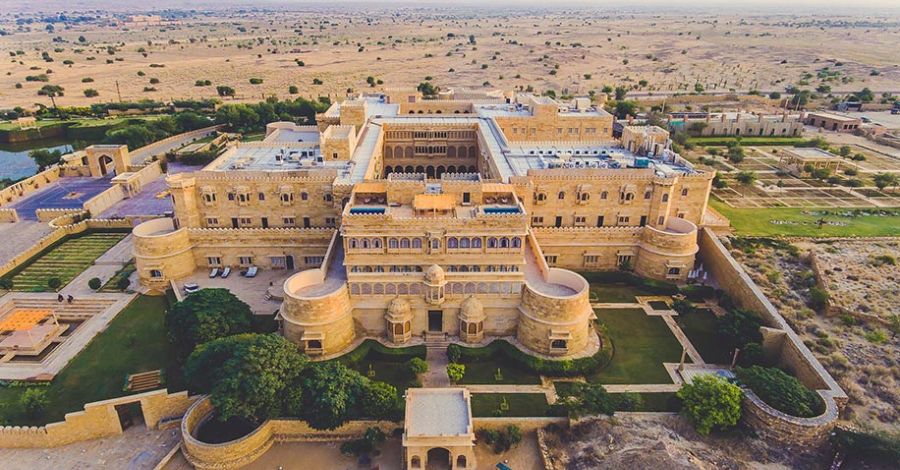 1. Photography: Hire a skilled photographer who can capture the important moments and the beauty of the location.
2. Transportation and Logistics: Keep an active logistics team to prevent any last-minute issues.
3. Sound and DJ setup: Tell your DJ what kind of music you like to hear for the occasion.
4. Baraat [Horses, Camels, Elephant, Lavasma, Brass Band, etc.]: Make preparations earlier to avoid any plan gaps.
5. Makeup and mehndi artists: To prevent any last-minute hassle, it is important to make appointments in advance.
6. Folk artists: Organize some live entertainment from a local band to improve the atmosphere at your wedding.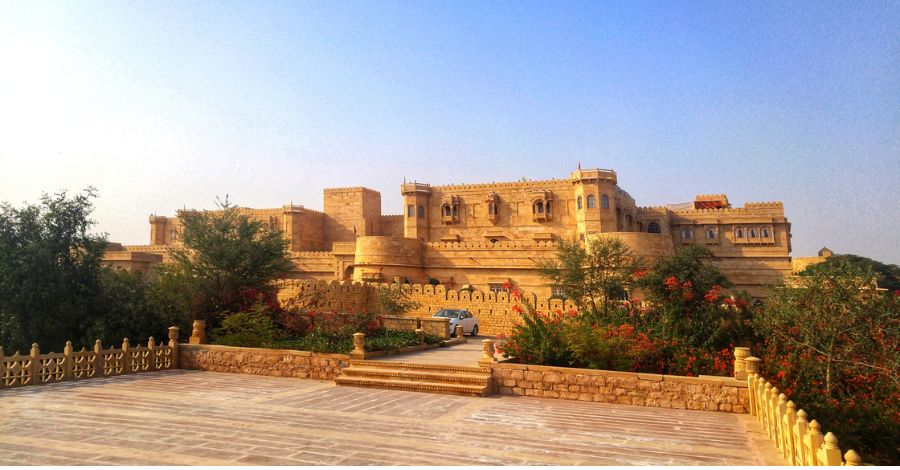 For more information contact us @ EMAIL: info@weddingsbyneerajkamra.com, MOBILE: +91-9928544555
Click below for more:
Umaid Bhawan palace wedding cost | Oberoi udaivilas wedding cost | chomu palace wedding cost | Rambagh palace wedding cost | Samode palace wedding cost | Alila diwa goa wedding cost | taj Aravali Udaipur wedding cost | aurika Udaipur wedding cost | wedding planner in Udaipur | Ananta Udaipur wedding cost | Jai mahal palace Jaipur wedding cost | Lalit goa wedding cost | Leela goa wedding cost | Zuri white sands wedding cost | Le Meridien Jaipur wedding cost | goa destination wedding cost | jag mandir Udaipur wedding cost | Leela Udaipur wedding cost | ramada Udaipur wedding cost | destination wedding planner in Udaipur | royal wedding planner in Udaipur | destination wedding in Udaipur | Chunda Palace Wedding Cost | Wedding Planner in Jaipur | Wedding Venues in Udaipur | Wedding Venues in Goa | Wedding Venues in Jaipur | Udaipur Destination wedding cost | Grand Hyatt Goa wedding cost | Hotel Lakend Udaipur wedding cost