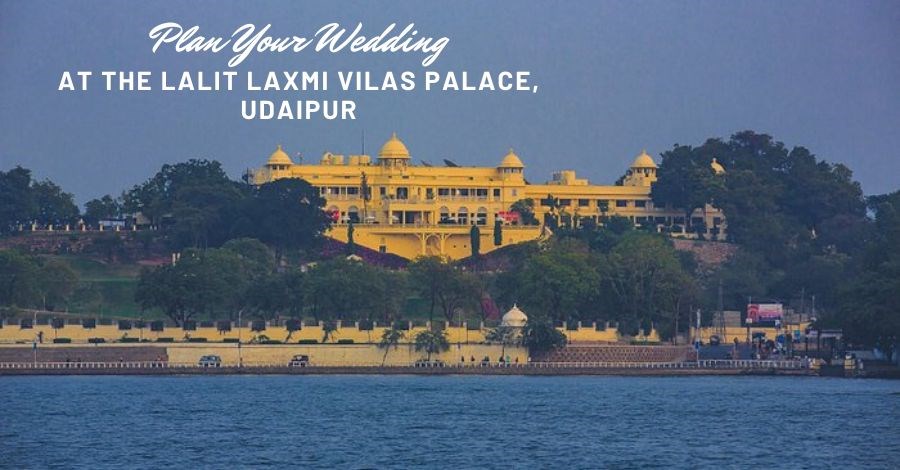 The Lalit Laxmi Vilas Palace, Udaipur
The Lalit Laxmi Vilas Palace, Udaipur, is a luxurious venue for anniversaries, pre-wedding events, wedding events, and reception ceremonies. It is situated next to Zinc Park in Udaipur, which is close to Fateh Sagar Lake. Guests at the Lalit Laxmi Vilas Palace in Udaipur are served delicious foods that are both vegetarian and non-vegetarian. Since it combines rich history with breathtaking views, This location is perfect for those who love destination weddings.
The Lalit Laxmi Vilas Palace Udaipur, built by His Highness Maharana Fateh Singh in 1911, is a symbol of the tradition and history of the princely state of Rajasthan. This stunning heritage palace, which overlooks Fateh Sagar Lake and has the majestic Aravalli hills in the background, emits royal elegance and offers a warm welcome to all its guests.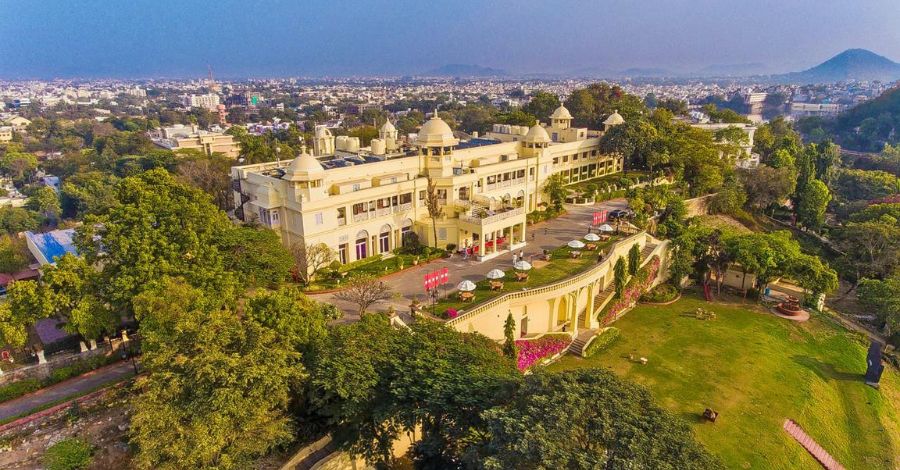 Destination Wedding At The Lalit Laxmi Vilas
If you are planning your Destination Wedding At The Lalit Laxmi Vilas. Great! This wedding venue, Lalit Laxmi Vilas, is well-known in the hospitality sector. It is the perfect combination of modern facilities with old-world charm. The hotel offers the ideal atmosphere and the best venue for weddings and related events. It is perched amidst the famous Aravalis with a breathtaking view of Fateh Sagar Lake. Guests may choose from various options and customize the decor and setup to meet their requirements.
This Destination Wedding venue in Udaipur contains 4 wedding lawns where you may arrange any wedding event, from a joyful sangeet celebration to a lavish wedding. They provide the following choices to help you:
Lawn 1 is an outdoor wedding lawn With a capacity of 1000–1500 guests that would be ideal for a big Indian wedding!
Lawn 2, With a capacity of between 900–1000 guests, is the ideal place to have your big dream wedding event.
Lawn 3 can be an excellent place for you if you want to organize a big sangeet celebration or cocktail party! You may arrange any wedding event with a capacity of 1000–1500 guests.
Lawn 4 can seat up to 100–200 guests; You may schedule any sangeet or mehndi ceremony.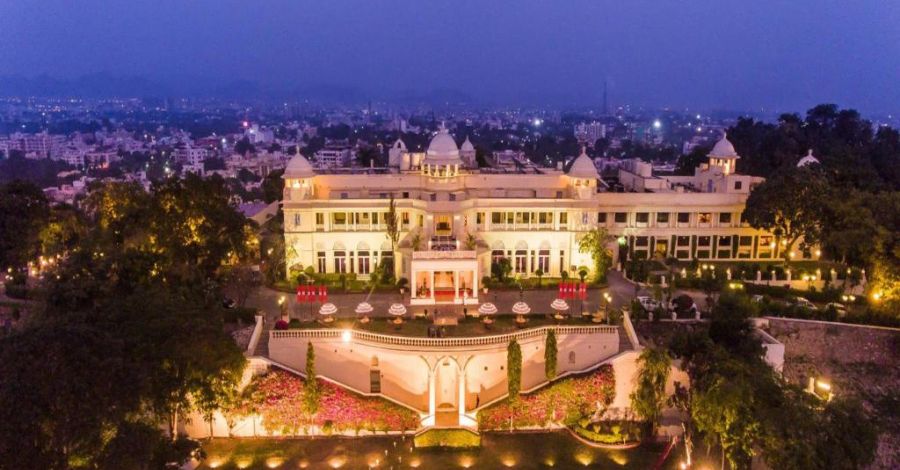 Lalit Laxmi Vilas Udaipur Wedding Cost
The Lalit Laxmi Vilas Wedding Cost in Udaipur may vary depending on the different events. However, a reasonable estimate gives you an idea of the wedding costs. Choose a custom Lalit Laxmi Vilas wedding package to enhance the greatness of your celebrations. Enjoy Lalit Laxmi Vilas wedding venue for a world-class wedding in the city of lakes. Enjoy superb services and customized hospitality solutions for a royal occasion.
With a guest list of 200-250 guests, The Total Expenses for Lalit Laxmi Vilas Udaipur Wedding Cost will be - Rs. 30 lakhs - Rs. 80 lakhs.
Here are to list a few:
Wedding Decor –
1. Mandap: Decorate the mandap area with calm colors or attractive lights.
2. Table and chairs: To avoid discomfort, ensure each guest has a comfortable seat.
3. Aisle: Decorations like flowers in a jar or fancy ribbons with flowers might help you stand out as you go down the aisle.
4. Centerpieces: Place some imposing centerpieces as your wedding decor to showcase your luxury.
5. Stage: Browse the different stage decorations available.
6. Dance floor: Make a dance floor that meets the needs.
7. Lighting: Make sure your lighting is adequate, and there are no dead spots.
8. LED: LEDs bring everything a pleasant, elegant look. Use them wisely, please.
9. Floral decor, etc.: Depending on the wedding theme and custom, choose from marigold or jasmine options.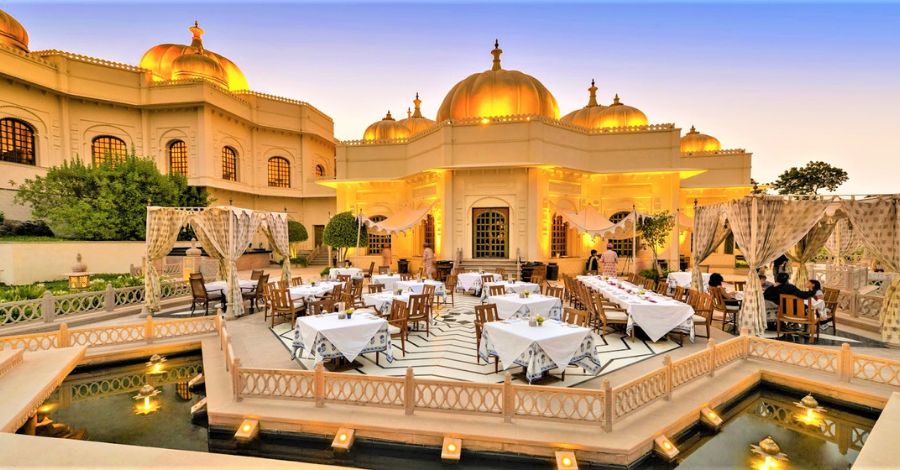 1. Photography: Pre-book your photographer and provide him with the proper info.
2. Transportation and Logistics: Keep a list of everything you need for your wedding.
3. Sound and DJ setup: Let your DJ know in advance about the theme and design of your event.
4. Baraat [Horses, Camels, Elephant, Lavasma, Brass Band, etc.]: Make the necessary preparations early on to avoid any gaps in the plans.
5. Makeup and Mehndi Artists: Discuss your preferences in the relevant categories to your mehndi and makeup artists.
6. Folk artists: Add some local group performances to improve the vibe of your wedding.
Get a Quote for Wedding on your mail. Place your query via this form :
https://www.weddingsbyneerajkamra.com/wedding-venue/udaipur/the-lalit/
For more information contact us @ EMAIL: info@weddingsbyneerajkamra.com, MOBILE: +91-9928544555
Click below for more:
Umaid Bhawan palace wedding cost | Oberoi udaivilas wedding cost | chomu palace wedding cost | Rambagh palace wedding cost | Samode palace wedding cost | Alila diwa goa wedding cost | taj Aravali Udaipur wedding cost | aurika Udaipur wedding cost | wedding planner in Udaipur | Ananta Udaipur wedding cost | Jai mahal palace Jaipur wedding cost | Lalit goa wedding cost | Leela goa wedding cost | Zuri white sands wedding cost | Le Meridien Jaipur wedding cost | goa destination wedding cost | jag mandir Udaipur wedding cost | Leela Udaipur wedding cost | ramada Udaipur wedding cost | destination wedding planner in Udaipur | royal wedding planner in Udaipur | destination wedding in Udaipur | Chunda Palace Wedding Cost | Wedding Planner in Jaipur | Wedding Venues in Udaipur | Wedding Venues in Goa | Wedding Venues in Jaipur | Udaipur Destination wedding cost | Grand Hyatt Goa wedding cost | Hotel Lakend Udaipur wedding cost