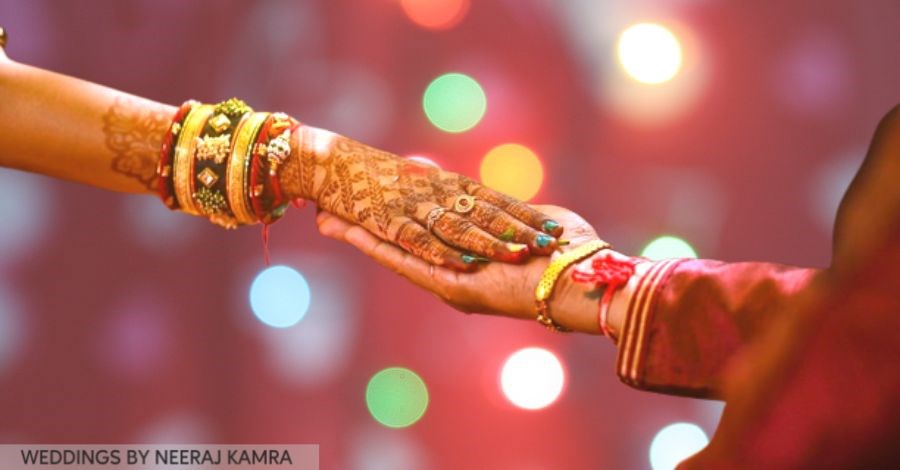 Destination Wedding Venue In Udaipur 2023
Combined with royal aesthetics and purity, Udaipur is becoming a top destination for weddings. Udaipur is one of the most picturesque destinations in India and is popular for its serene lakes, majestic forts, lavish palaces, and an array of medieval architecture. It is a city that swells with people during the wedding season.
Weddings in Udaipur are always one's favorite destination to get married. Udaipur has so many beautiful and top wedding venues to choose from. Choosing a destination for your wedding can be an overwhelming task, but it doesn't have to be. We want to help you to make the decision-making process a little easier for you by looking at some of the top destinations in Udaipur for weddings. It is hard to choose the top 5 wedding venues in Udaipur. There are so many unique places that provide excellent service as well as offer a good ambiance for the memorable day of your life. The city of lakes is not just beautiful. There are many well-known wedding venues in the city which provide the best service. Here, we will be discussing some of them and how they stand out from the rest
Destination Wedding Planner in Udaipur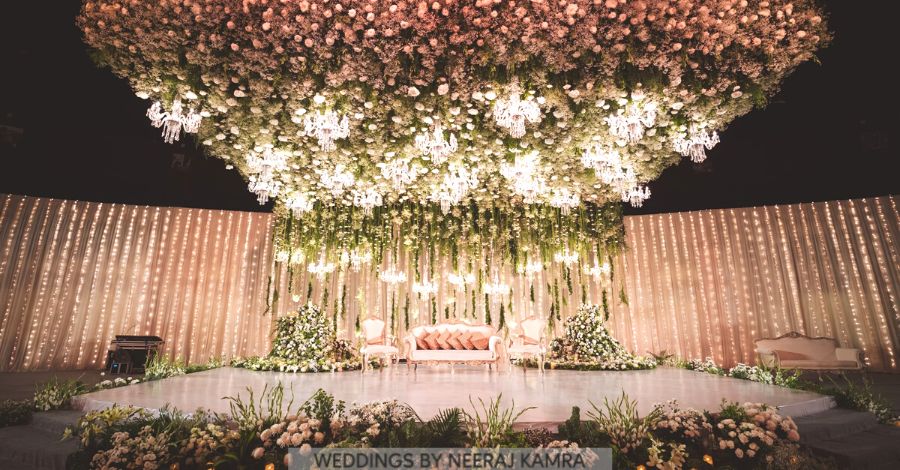 A wedding is the most awaited and grand occasion for couples. Every bride wants to have a perfect wedding in Udaipur, in order to give her loved one a lifetime of terrific memories. The city has a number of luxurious hotels and venues that offer such services to couples. Nowadays, people are getting more interested in celebrations than before, because they can find so many more ways to make their weddings different and unique. They are not afraid of experimenting with new things while organizing these weddings, which is why they trust the professionals with all their requirements.
Weddings by Neeraj Kamra is one of the leading and most trusted wedding planning and event management companies in Udaipur. They specialize in luxury weddings and promise to give their clients a one-of-a-kind experience. Neeraj Kamra and the team are dedicated to organizing the best weddings in Udaipur and other destinations in Rajasthan. Some of the top wedding destinations in Rajasthan are Udaipur, Jaipur, Jodhpur, Kumbhalgarh, and many more awesome destinations. They also have tie-ups with some of the best venues and hotels in Udaipur. Weddings by Neeraj Kamra organizes weddings at Jag Mandir, Taj Aravali, Raffles, Chunda Palace, Udaivilas, and many similar top venues during peak season.
Here is the list of the top 5 wedding venues in Udaipur.
1. Chunda Palace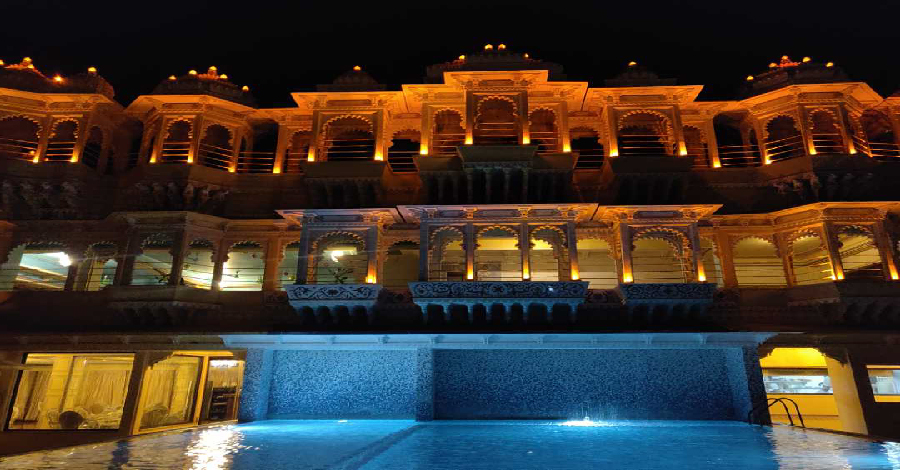 With the traditional Rajasthani style of decoration, Chunda Palace offers elegant vegetarian and non-vegetarian delicacies. Chunda Palace is one of the most popular wedding destinations in Udaipur, Rajasthan. It holds a very old legacy with generations of families hosting weddings in this palace and thus making it quite a grandeur and majestic place to have your special. Chunda Palace is another venue with plenty of rooms for guests and decoration space, lovely gardens, scenic views, a pool, and a children's play area.
2. Jag Mandir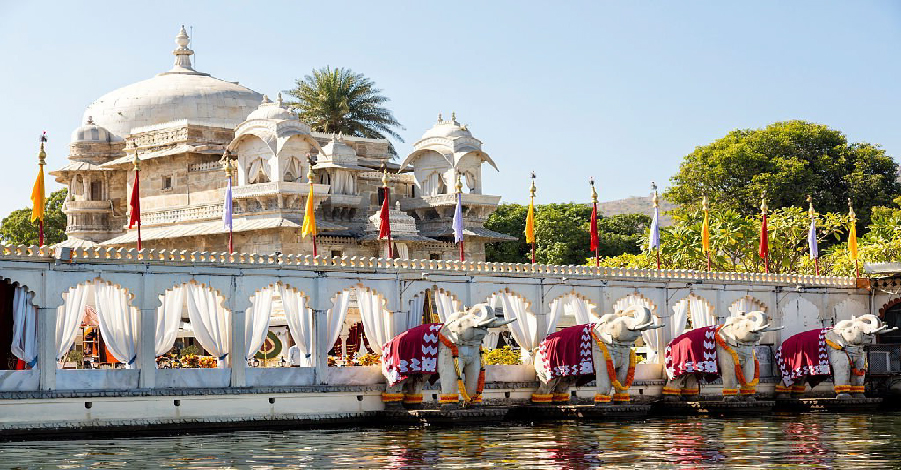 The most popular venue to host a wedding in Udaipur is Jag Mandir which has been home to over 100+ weddings in the last many years. It is often considered to be the most romantic place to get married in all of India. Jag Mandir is one of the most popular destination wedding venues in Udaipur, Rajasthan, India, and is famous for its beautiful palace and grounds with water features and grand fountains. It's also one of the most popular additions to the Royal Wedding destinations category as well. People embark on this journey with an aim of creating a cozy environment for their guests and making them feel at home by serving them traditional cuisine from Rajasthan and other parts of India as well as international delights such as Italian food, Chinese food, American food or any other kind from all over the world.
3. Taj Aravali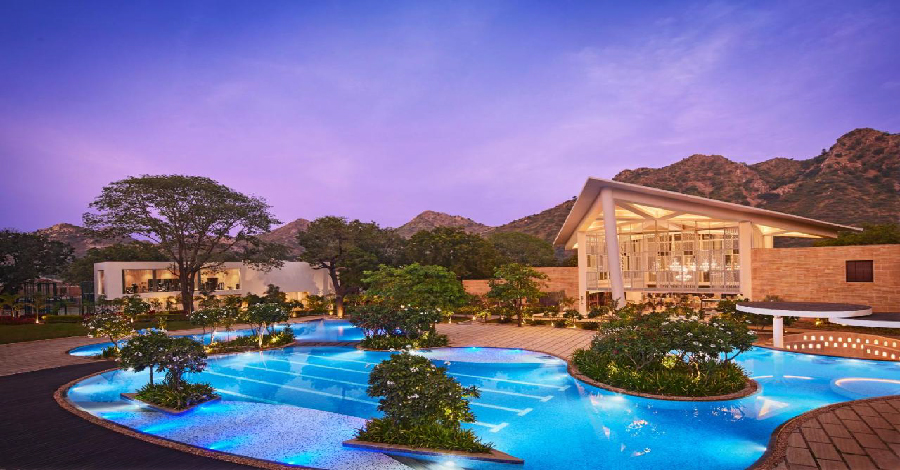 The Taj Aravali Hotel with its palatial architecture will leave you mesmerized with its sheer elegance and opulence. Taj Aravali is one of the most beautiful venues in Udaipur, which offers you an elegant venue with a contemporary vision. They keep on updating their designs and new theme which makes them even more attractive to their guests. Taj Aravali offers couples an opportunity to host their ceremony in an old traditional style. Taj Aravali is an Indian luxury hotel chain with five-star hotels throughout India. At Taj Aravali, there is a luxurious ballroom that can accommodate up to people for a smaller function or people for a larger function.
4. Oberoi Udaivilas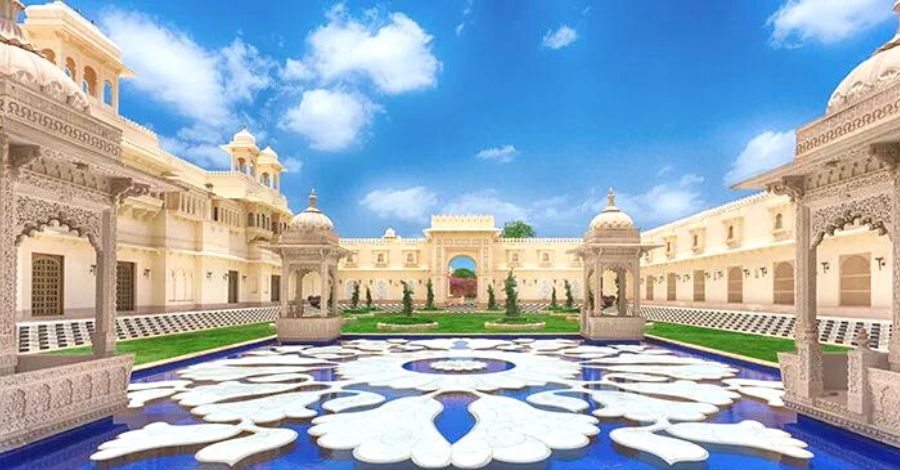 Oberoi Udaivilas offers a beautiful setting with lush greenery and ample spaces to host your dream wedding ceremony. It is one of the best hotels in Udaipur with an iconic view of Lake Pichola at night. Udaivilas offers a beautiful setting with lush greenery and ample spaces to host your dream wedding ceremony. It's always advisable for couples who are planning their wedding to feel free with their preferences and choose venues that offer superb and luxurious treatment. The hotels in Udaipur often provide car service for guests who want to visit around town or take.
5. Raffles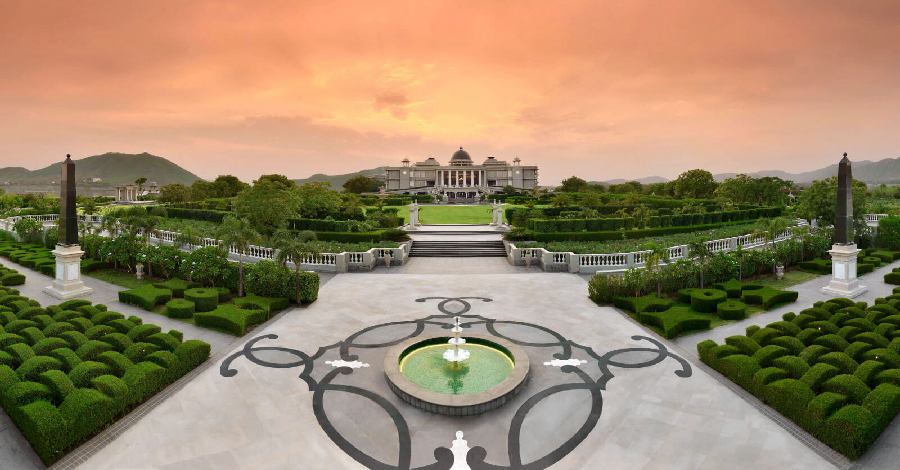 A Luxury Collection Hotel, Udaipur has got some incredible views to offer. Raffles Hotel has been hosting weddings for many years and has become one of the most popular wedding venues over time. The hotel offers luxurious accommodations as well as exquisite cuisine! The hotel is at a 20-minute distance from the Maharana Pratab airport, Udaipur. Raffles Udaipur is located on a 21 acres private island in the midst of Udaisagar Lake. Hotel Raffles offer auspicious services to its customers, some of the top services are Dining, Spa, Pool, Fitness Centre, Tennis court, and many more.
Get a Quote for Wedding on your mail. Place your query via this form :
https://www.weddingsbyneerajkamra.com/contact-us.html
For more information contact us @ EMAIL: info@weddingsbyneerajkamra.com, MOBILE: +91-9928544555
Click below for more:
Umaid Bhawan palace wedding cost | Oberoi udaivilas wedding cost | chomu palace wedding cost | Rambagh palace wedding cost | Samode palace wedding cost | Alila diwa goa wedding cost | taj Aravali Udaipur wedding cost | aurika Udaipur wedding cost | wedding planner in Udaipur | Ananta Udaipur wedding cost | Jai mahal palace Jaipur wedding cost | Lalit goa wedding cost | Leela goa wedding cost | Zuri white sands wedding cost | Le Meridien Jaipur wedding cost | goa destination wedding cost | jag mandir Udaipur wedding cost | Leela Udaipur wedding cost | ramada Udaipur wedding cost | destination wedding planner in Udaipur | royal wedding planner in Udaipur | destination wedding in Udaipur | Chunda Palace Wedding Cost | Wedding Planner in Jaipur | Wedding Venues in Udaipur | Wedding Venues in Goa | Wedding Venues in Jaipur | Udaipur Destination wedding cost | Grand Hyatt Goa wedding cost | Hotel Lakend Udaipur wedding cost