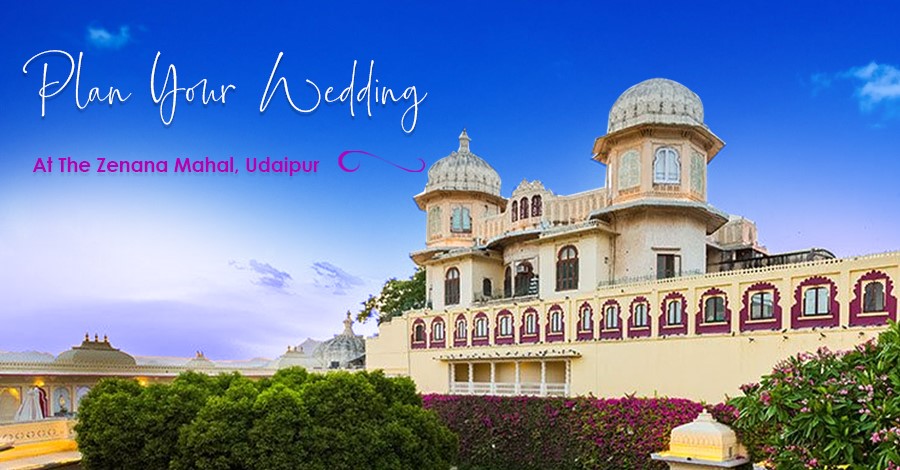 Wedding At The Zenana Mahal Udaipur
Plan Your Wedding At The Zenana Mahal Udaipur. Rajasthan is Known for its rich culture and staggering natural beauty, and Udaipur is one of the most beautiful locations to plan out your destination wedding! Adorned with a rich blend of culture and urbanity, it is ideal for planning out a royal wedding in Udaipur strategized with the help of Best Wedding Planners In Udaipur!
The former palace of the royal ladies, the Zenana Mahal, is now splendidly transformed to host regal weddings, events, and musical soirees.
With numerous unique venues to get hitched, The Zenana Mahal is a class apart and a perfect location to exchange vows.
Zenana Mahal Udaipur Wedding Cost
The Zenana Mahal is located at one end of The City Palace, with the large spacious court or the Laxmi Chowk in the center. It was restored and developed as an exclusive open-to-sky venue in 1999-2000 to mark the millennium celebrations.
The Zenana Mahal is best known for its historic luxury. It is the most romantic destination for weddings in India.
Food
The food at Zenana Mahal is a collection of mouth-watering delicacies, giving your taste buds a zing of flavor!
To Know Approximate Zenana Mahal Udaipur Wedding Cost, let's Calculate the following expenses:
Zenana mahal 300 pax / 36 lac + taxes ( this is an venue used only for sangeet or cocktails.
Apart from your estimated expense upon food and venue, various other arrangements should also be considered to calculate the total wedding expense.
Here are to list a few:
Wedding decor
Mandap: Decorate your mandap area with soft hues or mesmerizing lights.

Table and chairs: Arrange proper seating for all the guests to avoid any discomfort.

Aisle: Highlight your walk down the aisle with props such as flowers in a jar or fancy flowered ribbons.

Centerpieces: Showcase your extravagance by placing some imposing centerpieces for your wedding decor.

Stage: Browse from the various stage decor available to

Dance floor: Set up a dance floor as per requirement

Lighting: Make sure your lighting is appropriately avoiding any death spots.

LED: LEDs make everything look pretty and subtle. Make sure you use them wisely.

Floral decor, etc.: Browse from marigold options to jasmines, depending on the traditional ritual and wedding theme.
Photography – Prebook your photographer in advance, providing him with the correct details.
Transportation and Logistics – Keep track of all the essential things for your wedding.
Sound and DJ Setup - Inform your DJ in advance about the mood and design of your event.
Baraat [Horses, Camels, Elephant, Lavasma, Brass Band, etc.] - Make proper arrangements in time to escape any loopholes in the preparations.
Makeup and Mehndi Artists - Inform your Mehndi and makeup artist about your taste in the respective categories.
Folk Artists - Arrange for some performances by the local group to elevate your wedding ambiance.
Get a Quote for Wedding on your mail. Place your query via this form :
https://www.weddingsbyneerajkamra.com/wedding-venue/udaipur/the-zenana-mahal/